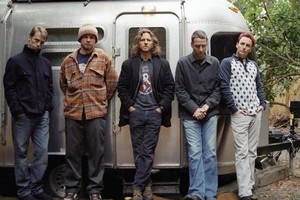 This book and double album are companions to director (and Pearl Jam's mate) Cameron Crowe's retrospective film about the band. While casual PJ fans and music lovers would be best getting their fix from the movie, which had a limited cinema release and comes out on DVD on October 24, for diehard fans the book (especially) and soundtrack are essential.
The heavy chronological nature of the scrapbook-meets-coffee-table book - like an intense, almost day-by-day diary balanced out by longer chapters about specific albums - is more like a fanboy reference tome than a ripping good yarn. But that's fine, because it's still the definitive history of Pearl Jam as told by the band along with snappy interviews and quotes by everyone from Neil Young to Neil Finn. "After the first show," says Finn of PJ's March 24 show at Mt Smart, "Eddie came home with us. Liam was incredibly chuffed that he took his room."
The only slight problem with the book is that (mostly) the photos are not captioned. So while they are candid and intriguing, like the one of Chili Pepper Anthony Kiedis in drag (page 211) and the many stage diving shots, it's frustrating not knowing the who, when and where.
Meanwhile, the soundtrack to Twenty features a savage version of Blood (off 1993's Vs.) from the second show at Mt Smart Stadium in 1995. It's punishing, with Vedder in a particularly caustic vocal mood - like you've never heard him before - as he spits and yowls. Maybe he was still reeling after getting caught in a rip at Piha while swimming with Tim Finn earlier in the afternoon (as outlined in Twenty).
Though the songs clash a little, with low quality recordings (like the brilliantly drunken crowd sing-a-long version of Garden from 1992) alongside more pristine tracks (the gently swooning Black from 1992's MTV Unplugged), that's half the appeal of this ramshackle release. Ultimately though, it's one for fans.
PJ20 (The Soundtrack)
Stars: 3.5/5
Verdict: And one for the diehards
Pearl Jam Twenty (The Book)
Stars: 4.5/5
Verdict: Essential reading, for fans at least
- TimeOut