The greats of the grunge era are still vying for market share, 20 years on. Scott Kara dives in.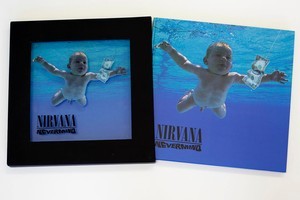 Of all the songs I've jumped around to at parties and in the privacy of my own lounge over the years, it's songs like Territorial Pissings, and, of course, Smells Like Teen Spirit that are most memorable. The latter, in particular, has even caused a few injuries when it pits party-goer against party-goer as the lounge floor starts bending and the swirl of the homemade moshpit forms.
What fun. Because despite the often dark, lovelorn mood of Nirvana's classic Nevermind, the album was also a hell of a lot of fun.
Twenty years on, while I'm more likely to be found dancing to Teen Spirit with my little girl these days, the songs of Nevermind still sound fiery and fresh. And on the new, remastered 20th anniversary editions - which come in many formats, including the Super Deluxe Edition with a book, posters, four CDs, and a DVD - they sound better than ever.
But nothing can replace my flimsy Nevermind record (because they made vinyl flimsy in the early 90s) with its dog-earred and torn cover, or my old CD copy.
I was 19 when it came out on September 24, 1991 - the perfect age to enjoy it, because it was my first year away from home and my mates and I were running wild at university. While I was never that enamoured with Nirvana's debut, the raw and squalid Bleach, Nevermind's 12 anthems were immediately riveting. From the elegant and touching love songs of Come as You Are and Something In the Way, through to the raging, aneurysm-inducing intensity of Breed and Lithium, the album packed the perfect punch.
And that impact can still be felt today on these fancy new deluxe re-issues with their many added extras. The B-Sides are already well-known (like the live version of School with its throatie catch-cry "no recess"), but the previously unreleased tracks are gems. There's the Devonshire mixes, producer Butch Vig's demos of Nevermind that almost sound good enough to be the actual album; the Smart Studio Sessions feature slower, sludgier versions of tracks like In Bloom, Dive, and a primitive Breed (then called Imodium) and best of all are the deadbeat cool of Lounge Act and the deranged venom of Territorial Pissings on The Boombox Rehearsals (recorded on a boombox in 1991).
They offer a new, primal perspective on these famous songs and give you a sense of the origins behind the onslaught - albeit a very polished one - that was to become Nevermind.
And to check out the three scruffy blokes who made this racket, the DVD is a must-see live set recorded on October 31, 1991, at Seattle's Paramount Theatre. It's a performance by three guys: Kurt Cobain, superstar, guitar hero and tramp; Dave Grohl, the man-machine; lurching barefoot bass player Krist Novoselic - playing their songs. Here we are now, entertain us.
Stars: 5/5
Verdict: Still a classic and sounding better than ever
- TimeOut