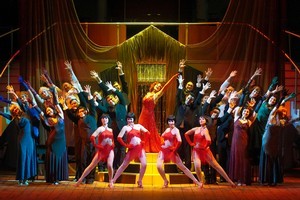 Cole Porter's smart-to-be-silly, witty-and-warm songs are so exceptional that they could pull this 1934 hit musical comedy through by themselves. But Auckland Music Theatre isn't pulling back; instead, it layers other treats on top of Porter's fantastic musical anchor to create a tremendous night out, with brilliant casting and huge song-and-dance numbers.
Onboard a trans-Atlantic ship, the large gaggle of comic characters can hide but they can't run. Shenanigans in disguise ensue at a good pace it's all great fun.
The acting, directed by Grant Meese, is perfect for this genre. Flame-haired Jackie Clarke is the bright centre as the leading sassy dame; and when he grins, Australian Tyran Parke as the affable romantic lead looks rather like a young Hugh Grant.
Richard Neame is entirely comfortable as the ridiculous English lord with the John Cleese voice; and equally, fabulously, over the top is Alexandra Foster's squeaky-Accented New York gangster sexpot, leading the sailors a merry dance.
A more-than-game Lynn Webster is foil for the enjoyable Ray Woolf.
The timeless songs effortlessly roll along, such as I get a kick out of you and You're the top, full of heartfelt compliments: "You're the Nile...you're a turkey dinner...you're Inferno's Dante."
The voices are beautiful - Jackie Clarke and Delwynne Winter especially - even if the mics weren't quite loud enough when Penny Dodd's excellent band was going full tilt (on the ship's upper deck, a nice touch).
The dancing in the soft floaty romantic bits isn't entirely convincing, but the cast are at ease in the snappy, sparky tap numbers, and when the entire cast of 34 are hoofing it, the effect is spectacular.
And if all that weren't enough, it's worth going for the showstopping costumes alone. Designer Alf Weston has produced enough 1930s style to sink a ship: slinky, glittery, backless halterneck evening gowns, floppy-brimmed hats, strappy shoes and an Outrageous pair of lounge pyjamas with matching turban for the rich mama, Webster.
This is Porter done proud; highly recommended.
LOWDOWN:
What: Anything Goes
Where: Civic Theatre, September 29 to October 22