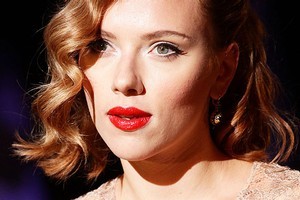 Hollywood actress Scarlett Johansson has broken her silence after nude pictures of the star flooded the internet earlier this month.
Johansson, 26, called in the FBI after photos, including one purportedly showing her lying topless on a bed, and another draped in a towel with her bare bum reflected in a mirror, were posted on several gossip websites.
The leak has started a web craze called "Scarlett Johanssoning" in which people recreate poses from the pics and post them online. More on that soon.
The Lost In Translation star joined a growing list of Hollywood starlets, including Christina Aguilera, Jessica Alba and Vanessa Hudgens, who are believed to have fallen victim to a hacking ring targeting their mobile phones.
Although Johansson herself never confirmed that the girl in the saucy snaps was her, her lawyers swiftly intervened and threatened legal action against anyone who published them.
Lawyer Marty Singer said: "The highly personal and private photographs at issue capture our client self-posing in her own home in a state of undress and/or topless."
He added: "If you fail to comply, you will be acting at your own peril. Please govern yourselves accordingly."
Johansson has since (albeit indirectly) spoken out about the nude snaps scandal, stating that her invasion of privacy was "unjust".
Speaking in an interview with CNN, Johansson said: "Just because you're in the spotlight, or just because you're an actor, doesn't mean you're not entitled to your own personal privacy.
"No matter what the context, if that is besieged in some way it feels unjust, it feels wrong."
She went on to explain: "To me, it's an adjustment. There are certain instances I think where you give a lot of yourself, finally you just kind of have to put your foot down and say, 'No wait, I'm taking it back'."
Watch Johansson's brief interview below:
Never fear, Johansson, I'm sure the FBI will get to the bottom of it.
Cheeky new net craze
And while Johansson quietly simmers over the leak, little does she realise that her show and tell has sparked a new internet fad.
In a craze dubbed "Scarlett Johanssoning," pranksters are busy mimicking the star's bottom-baring pose and flocking to a new website to post their own versions of the shot.
Even Alf, Donald Duck and Paddington Bear appear to be in on the wacky action.
Click on over to the Daily Mail for the lowdown, but be warned - a few of their snaps are pretty cheeky.
Oh, the bare-faced cheek of it all!
- Blogger Bites Back