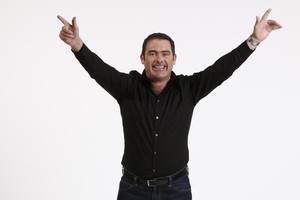 Des McLean - you have to hear this guy," he's brilliant. So says legendary Scottish comedian Billy Connolly about his fellow countryman.
Talking to Des McLean is a bit like talking to Connolly in his early years - a man with raw frustration funnelled through a gruff Glaswegian accent. McLean is instantly likeable, self-deprecating, charming and immersed in his hard Scottish west coast upbringing.
He's part of tomorrow night's Spirit of Bannockburn show at Vector Arena, the extravaganza marking the night before Scotland battle their "auld" enemy, England, at Eden Park. "The Spirit of Bannockburn is going to be a huge celebration of Scotland with a wee bit of everything packed in, says McLean.
"I think the expats will love it but I don't think you need to be Scottish to enjoy it. If you're a fan of [Billy] Connolly or Danny Bhoy, you're going to like it."
Many comedians draw their inspiration and much of their material from hard, gloomy times, none more so than Scottish comedians. But McLean's first foray into live comedy began in the late 80s.
"I was working on the roofs, doing roofing, slating during the building boom. People were making a lot of money but I hated it. I was always the funny guy on your tea break. I'd make jokes up and people would laugh and tell me I should be a comedian."
It's was Connolly's encouragement and performances which convinced McLean to put down his roofing tools and pick up a microphone.
"I was watching that legendary An Audience With Billy Connolly and halfway through it, I just decided, 'that's what I'm going to do' and that was it, really."
Having paid his dues in gigs ranging from package holiday tourist resorts in the Canary Islands to the Edinburgh Festival, these days McLean is a bona fide British celebrity with a regular slot on BBC1's primetime One Show and a profile that allows him to sell out the likes of Glasgow's 3000-seater "Armadillo" venue as he did recently.
For his first New Zealand outing, he gets to play the country's biggest indoor auditorium, yet again following in the footsteps of Connolly.
"New Zealand is a perfect place for me to play. I've watched guys like Billy Connolly go out there and play these big shows [and] I want to follow these guys."
LOWDOWN
Who: The Red Hot Chilli Pipers and comedian Des McLean
When: Spirit of Bannockburn, Vector Arena, tomorrow night
Also: McLean playing Juice Bar, Parnell, Wednesday, October 5; Pipers have six dates around the country including House on Hood, Hamilton, October 6.
- TimeOut