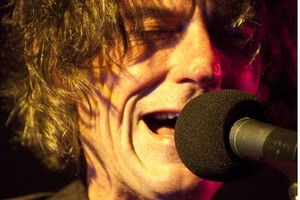 With a refurbished interior, new management and a healthy injection of professionalism, the theatre once called Her Majesty's lent a surprising elegance and impact to proceedings on an otherwise dreary Dunedin night.
After years languishing as Dunedin's most poorly utilised and maintained venue, the space now under the personal supervision of Sam Chin felt revitalised. It was fitting that the revamped venue would play host to two bands familiar with transformation, Cut Off Your Hands and Dunedin's own Verlaines.
Fresh from releasing their album Hollow, it was a surprisingly mature and efficient Cut Of Your Hands that took to the stage. While previously indebted to the angular guitars and shouted vocals of British post-punk groups such as Gang of Four and energetic hi-hats of Bang Bang Eche, it was The Smiths now providing a musical reference point for the band.
Playing a Johnny Marr-styled Danelectro, guitarist Jonathan Lee delivered a densely layered sound, his complex lead lines blending with the softer melodies provided by frontman Nick Johnston.
Taking the stage behind music stands, Graeme Downes' Verlaines were a far different animal from the rock band which frequented Sammy's in its previous heyday. Thankfully, where many of his once contemporaries have softened into mellow shadows of their former selves, Downes has lost none of the bite or musical drive in his shift to a more expansive and classically-influenced sound.
Downes has now transformed his aggression to the lyrical domain, Paritai Drive from 2009's underrated Corporate Moronic highlighting his venomous wit and intellect.
Closing a lengthy set with the loose and ragged epic Last Will and Testament from the forthcoming Verlaines record, Downes is as compositionally proficient as ever and, most importantly, seems unwilling to rest on past laurels and achievements.
He's certainly got my respect.
What: The Verlianes and Cut Off Your Hands
Where: Sammy's, Dunedin
When: Saturday, September 24
- Volume