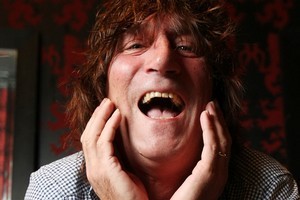 Jordan Luck thinks his band's new single is going to be a hit but listeners don't agree with him.
The Exponents front man knows a thing or two about writing chart-toppers - he's helped pen Kiwi classics like Why Does Love Do This To Me and Who Loves Who the Most that are still sung from terraces during major sporting events.
But The Exponents' new single has something else going for it - it's about rugby.
And the single, called It's Rugby, has been expertly timed to coincide with the Rugby World Cup.
The song is an upbeat acoustic number that the band hopes will be sung from the terraces at the Cup final.
It features the lyrics: "It's rugby, more important than life and death, rugby, without you there's nothing left."
The song is the first single from The Exponents since 1997, and Luck hopes it's going to be huge.
"We're optimistic that it's going to be a hit," he says.
"It's a brand new song. But I think people are going to love it. It has a little agenda of course, but it's The Exponents. We're back!"
Online commentator Russell Brown was already predicting It's Rugby would be a hit, tweeting yesterday: "I have heard it. Some people will hate it. Very many people will sing it."
But nzherald.co.nz readers don't share his optimism.
One commentator called the song "lame" while a poster called Ned said it needed more "fireworks".
"I fear that Jordan may have been more than usually drunk when he wrote this one. Tries for anthemic but ends up just sounding a little bit silly," he said.
Share your own thoughts on the song here.
It's Rugby is on iTunes now but was released exclusively to nzherald.co.nz. Listen to it below:
Buy It's Rugby at iTunes.
- Herald online