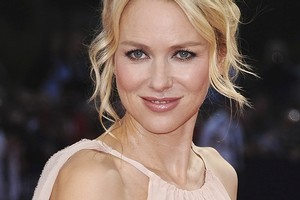 Naomi Watts had a "beautiful relationship" with Heath Ledger.
The 42-year-old actress met Ledger during the filming of Ned Kelly. The pair started dating in 2002, and their union lasted almost two years.
Ledger died four years after their split, from an accidental toxic combination of prescription drugs in January 2008.
Watts has fond memories of the talented Australian actor.
"Good times," she told US magazine More when asked about her relationship with him.
"We had a beautiful relationship, only a couple of years, but he was a man who was completely full of joy, and there was a lot of laughing and affection.
"He was really a very special soul and made a great impact on my life."
Ledger went on to date actress Michelle Williams after he split from Watts.
The pair had a child, Matilda, together - who turns six next month.
Watts's heart goes out to Ledger's daughter. The blonde beauty also thinks his untimely death was an injustice to the breadth of talent he had to give to the film industry.
"And a great actor," she continued. "But I know there was so much more to come. And it's such a tragedy for his little daughter."
Watts has been in a serious relationship with actor Liev Schreiber since 2005. The couple have two children together; four-year-old Alexander "Sasha" Pete and Samuel "Sammy" Kai, two. Watts says the connection she has with her two young sons is the most important thing to her.
"I want them to feel connected to me and me to them. Always. I want them, above all, to feel sure of who they are. That they are safe in the world and confident and happy people," she explained.
"And of course, connected - to their parents, their friends, their family, the world and themselves. This is the most important goal/dream in my life. Everything else is gravy."
- AAP