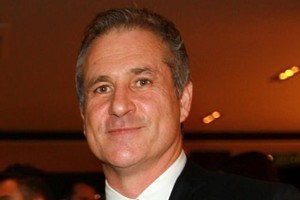 There is nothing quite like the excitement of Christmas Day when you are a kid. And that's the level of pants-wetting glee TV3 commentator Hamish McKay must have been feeling calling the All Blacks v France match on Saturday.
The channel's good keen rugby man had finally got some real game time since this was the first live-to-air match on 3 during the Rugby World Cup.
So McKay is over the top and cheesy at times. He doesn't just say rugby. He says rrrrugby. But you have to admire the guy's enthusiasm. And he held a particular torch for Richie McCaw in his 100th test with gems such as: "There's the centurion", and best of all, "The 31st of December, 1980, what a gift to the nation by Mr and Mrs McCaw ... young Richard."
McKay was joined by former All Blacks Andrew Mehrtens and Richard Loe and what was striking about his team was the breathing space in the trio's commentary. At times they allowed the game to run with hardly anything - sometimes nothing at all - being said.
This restraint was surprising, especially given McKay's love of rugby lingo, but taking a few pointers out of the tennis rule book of commentary made for a welcome rugby-watching experience.
Despite accusations of Mehrtens being a little, um, under the weather during TV3's nightly Cup Talk show a few weeks back, he was studious and informed, albeit less cheeky than you'd expect (and hope). But his "send him home" dig at referee Alain Rolland was classic Mehrts.
And while Loe is a little bit, well, dead-beat and obsessed with the odds at the TAB, the big fella offers deft conclusions at scrum time that normal, 77kg lay people wouldn't even notice.
In the pre-match buildup James Gemmell, the former TV3 reporter and now BSkyB commentator in London, was effortless and polished. But what was with his lingering looks back towards the camera during his interviews as if he was giving all the ladies at home the glad eye?
Also in live action for the first time at the cup was the spider cam, which offers a perspective of the game that's hardly been seen before (in New Zealand at least). Getting a hovering view of a destructive All Black scrum early on was fantastic stuff.
Over on the other networks it was business as usual. The Maori team were honest ("They're looking a bit dodgy at the moment," said Te Arahi Maipi of the All Blacks' tackling), entertaining, and one of the most pleasing aspects of their commentary is how they pronounce Jerome Kaino's last name properly.
And in the pre-show banter former presenter and now Maori TV bigwig Carol Hirschfeld outed herself as a rugby head. She reckoned the All Blacks would win with a 20-point margin, which was right on the money.
On Sky, while they might lack the fun factor, they make up for it with instructional blokes like Foxy whose awareness and knowledge mean they have a far better handle on the game.
Still, there's nothing like a flippant "Send him home" or lines like "the sweet sweet hands of the French" (McKay) to make it more interesting for non-rugby-heads.
- NZ Herald