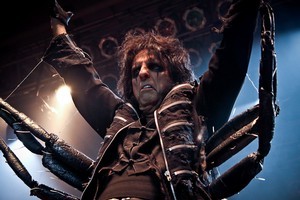 It was a little disappointing really, only for the fact Alice Cooper - still the reigning king of gonzo shock rock after more than 40 years in the business - died just once, maybe twice, last night.
He was here two years ago and got knocked off four, maybe five times. It was a busy night for the guillotine back then.
Not that it mattered this time round. That was the Theatre of Death Tour and this is his No More Mr Nice Guy jaunt where Alice gets to sing his songs.
The 63-year-old rocker - aided by hot new guitarist Orianthi (formerly Michael Jackson's axe woman) - played the whole gory gamut of hits, from I'm Eighteen and Billion Dollar Babies (with Cooper wielding a sword at the crowd), through to the anthemic and cheesy 80s smash, Poison, and the heavy blues boogie of Under My Wheels.
Cooper pioneered a brand of heavy shock rock in the late 60s and early 70s on albums like Killer and School's Out - and it's those songs especially that still stand up today.
The highlight was the psychedelic King Crimson-meets-mangled Mariachi metal of Halo of Flies, a mid-set monster complete with a bass and drums duel, and a fruity cowbell.
It's also just over 35 years since Cooper's Welcome to My Nightmare concept album came out and to celebrate he released the sequel, Welcome 2 My Nightmare, this week off which the charmingly titled new song, I'll Bite Your Face Off, got an airing.
From the original record he played the sinister yet soppy Only Women Bleed and a menacing rendition of Cold Ethyl with Cooper mistreating his floppy corpse doll to the delighted glee of the crowd.
And the punters were an interesting lot too, with everyone from grown ups - as in Alice Cooper's age - being led around on dog leashes, to normal salt of the earth rockers who came along to make themselves feel like they were eighteen again.
Earlier, there wasn't so much blood letting just good old fashioned shredding from Head Like A Hole who ripped through a half hour set of oldies, including Fish Across Face and Comfortably Shagged, and new songs (the unhinged sing-a-long Valhalla was best of all) off latest album Blood Will Out.
But it was Cooper the masses were here to see. And he may have only been here two years ago but this was a better show because it was heavier, more polished, and without the distraction of him being killed off every four or five songs.
*Keep an eye out for a full photo gallery in next week's Volume.