A quick word with Annie Ilonzeh, who plays Kate in the latest television incarnation of Charlie's Angels.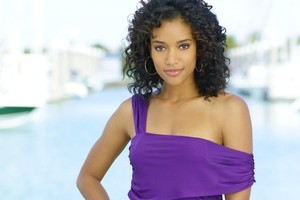 The show comes produced by Drew Barrymore who was behind the noughties movie reboot of the 70s series, which made stars of Farrah Fawcett and Jaclyn Smith among others. On Version 3.0, Ilonzeh joins Friday Night Lights' Minka Kelly and Aussie actress Rachael Taylor as the crime-fighting trio. In between filming on a 32-degree Miami set, Ilonzeh chatted to TimeOut.
Are you nervous about living up to the original Charlie's Angels?
I don't feel pressure to live up to one woman or the show as a whole. I'm hoping people see that we're not trying to do the same Charlie's Angels. We're trying to do Charlie's Angels for our time, in 2011. It's grounded in relationships, so there's that new spin on it.
What's it like going from General Hospital to a high-action primetime series?
On a soap, you'll shoot two episodes a day and still not be there for eight hours.
Here, we'll shoot six scenes over 16 hours, with explosions, fighting and bad guys. It's a completely different transition but I've always wanted to do physical and action stuff - it's in my blood.
Speaking of which, how did you go from professional basketball to acting?
I went to LA on vacation, saw the "lights, camera, action" and the stars on Hollywood Boulevard and fell in love with it. I'd never done acting and people said I wouldn't make it. Everyone thinks so many obstacles will be thrown your way and it'll take forever to make it, but I didn't know any of that so I was bright-eyed and super-naive. As an athlete, I thought "it's fourth quarter and I've got to win this game".
Did your athletic background help with the physical side of playing Kate?
For sure. When I get a bruise I'm like, "Yes! That's an accomplishment." I embrace being physical and my background has helped with learning new stunts, being fearless and doing my own fighting sequences.
So you've done a lot of your own stunts?
Pretty much 100 per cent. It's been hard work but we had weeks of training. Minka and Ramon [who plays John Bosley] also do their own stunts. Minka is a fearless daredevil.
How do you all get along off-screen?
We've got this genuine off-screen chemistry. It's like a sisterhood that happened from the moment we met. We're always having lunch or hanging out. And with Ramon, we'll be like, "okay, if a guy is doing this, what do you think it means?" We're one big happy family.
What's your own family like?
I have four sisters, my mum and dad, so it's a big family. This show is all about family and sisterhood and that's one of the things I gravitated to. It's something that's embedded in me because when there are five of you, you can't help but have a bond. You live and breathe sisters and that's what it is with Charlie's Angels. I consider Minka and Rachael my sisters, so it's like I have six now.
How involved has Drew Barrymore been?
She's very busy directing and starring in movies and running her production company. But she is and was super hands-on and supportive, especially in the pilot and with casting. She's charming, wonderful and a fellow Angel, so it's great to be in her presence because you just get this angel energy. I love her to death.
LOWDOWN
What: Charlie's Angels, the new television series
Where and when: TV2, 9.30pm Wednesdays
-TimeOut