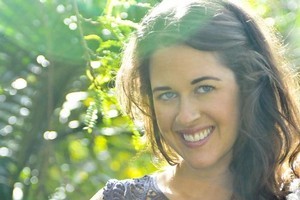 Friday night drinks? Meet me at: An undisclosed rooftop party. Time to pre-funk with good friends.
Where I'll be wearing my new: BCBG stiletto high heels. Never really wear them but couldn't resist these bright party shoes on my recent trip to the States.
And this weekend I'm planning on: A weekend escape at the East Cape. Lying in the sunshine and doing some hiking with my girlfriends, while the boys work on catching us dinner, spearfishing.
But first I'll need to refuel at my favourite cafe: If i'm in Ponsonby you can find me at One 2 One; in K Rd, Revel Cafe; and downtown, catching up with my sister at Rakino's.
Saturday evening. If my dreams came true there would be a gig by: At the moment I'm holding out for Portishead, been loving their music for ages so can't wait to see them live. If my dreams come true they would do a show at a smaller, more intimate venue, like the Powerstation.
But if there's nothing else doing I'll probably just: Catch a local act. Over the last four years, living in this country, I have fallen in love with the local music.
On my stereo/headphones right now is: Just got a record player so it's all about the classics: Marvin Gaye, Ella Fitzgerald, Billie Holiday, Cream and James Brown in the background.
The books I can't put down are: Mostly fiction books based on real life events, people and places. Those and biographies.
The TV show I take the phone off the hook for: Haven't owned a TV for over two years, best decision I have made. Saying that, I do love a good series. Just finished Californication and was pretty hooked.
The movie I've been dying to see: Bill Cunningham, I have just started doing street fashion photography so really inspired by what Bill Cunningham has done.
A non-cooking Monday night means takeaways from: The international food court on Ponsonby Rd ... doesn't get much better.
Or a splash-out Wednesday night restaurant would be: If I was splashing out, I would rent out the private room at Kermadec Restaurant in the Viaduct ... the one with the waterfall and fishes that swim around your table. Have never had a better dining experience then that, I tell ya!
Cleo Barnett is the curator of Dirty 13, an exhibition of all things urban art for this year's Basement Fest on September 28.

- Time Out