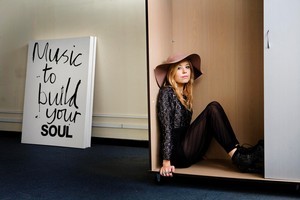 The R&V Soundcheck at Vector Arena on September 29 is the first of three events Rhythm & Vines has coming up this year. As well as the traditional New Year's festival in Gisborne, which has been running for nine years and will be headlined in 2011 by Australian stadium dance rockers Pendulum, Soundcheck is designed to be a sideshow and taster for the main event.
Then there is the new Rhythm and Alps Festival at Terrace Downs resort near Mt Hutt on December 28 and 29. The bass and electronica-heavy line-up of 34 acts includes hip-hop pioneer Grandmaster Flash, dub steppers Skream and Benga (who also play Soundcheck as part of Magnetic Man), beat terrorist Flying Lotus, drum'n'bass legend LTJ Bukem, and locals Six60, 1814, and Homebrew.
But first comes Soundcheck, and as well as dubstepping pop chick Katy B here's a rundown of the rest of the line-up...
Diplo
In-demand producer and remixer to both the stars (everyone from Britney Spears to Radiohead and Lil Wayne) and the underground's best, including rapper and revolutionary M.I.A.
and his quaking rework of New York noise pop duo Sleigh Bells' Tell Em. As well as touching up other artists Diplo also makes his own music, and is part of dancehall-inspired project Major Lazer who played R&V's New Year festival in 2009. Expect banging, epic, and sometimes punishing sounds from the Philadelphia-based beat guru.
Magnetic Man
The moniker of powerhouse dubstep trio made up Skream, Benga and Artwork, all of whom, in various ways, have advanced dubstep and helped push it into living rooms, clubs, and now, arenas and festivals around the world. Fellow R&V Soundcheck star Katy B collaborates on two tracks from their dark, anthemic, and occasionally poppy and boppy self-titled debut album.
Digitalism (DJ Set)
The German duo made up of Jens "Jence" Moelle and Ismail "Isi" Tufekci conjure up an electro dance punk beat maelstrom. Listen out for the simmering stealth of Digitalism In Cairo, their version of The Cure's 1979 track Fire In Cairo, from 2007 debut album Idealism. It's a stomper. They also released second album, I Love You Dude, earlier this year.
Ruby Frost
Whimsical, spectral pop you can dance to. That's Auckland indie-electro-pop singer-songwriting lass Ruby Frost for you. She holds up the local end of the event and expect her to road-test songs from her debut album which she is currently working on with US producer Chris Zane (Passion Pit, Friendly Fires).
- TimeOut