The rise of Brit dance-pop star Katy B has led her all the way to Auckland to headline a stadium-sized electronic extravaganza. She talks to Des Sampson.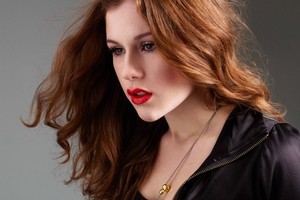 When Katy B left "Brit School" - London's performing arts college that has produced superstars like Adele, Katie Melua, Leona Lewis, Jessie J and Amy Winehouse - she had a master plan.
That was to bring her music - a heady mix of dubstep, garage, funk and soul - to both the masses and the elite club scene. It's partly why she called her debut album On A Mission. But she didn't believe she'd achieve her ambition on the scale, or at the speed that she has.
"I never imagined my album was going to be embraced on the level it has," she confesses, clearly bemused by its success. "It was supposed to be released on a much smaller scale, as an introduction to me. But when the first single - Katy On A Mission - came out, everything went crazy and it took on a life of its own."
It did, with On A Mission crashing into the UK charts at No.2, spawning three top 10 hits - Katy On A Mission, Lights On,' her explosive collaboration with Ms Dynamite, and Broken Record - which earned Katy B both critical acclaim and commercial appeal, culminating in a nomination for the prestigious Mercury Music Prize, recently won by P.J.
Harvey.
It's also seen her catapulted on to the European festival circuit, including a memorable performance at Wembley Stadium in front of 80,000 fans.
"That night was insane, because I thought I was playing Wembley Arena, which holds 12,000 but when I got there I realised it was actually Wembley Stadium," she recalls. . "It was pretty scary, but brilliant too, walking on stage and seeing 80,000 people with their hands in the air, singing along to my songs."
Despite her meteoric rise, Katy B's feet remain firmly anchored to the ground. It's largely due to her no-nonsense parents, but also a product of growing-up on the rough, tough streets of Peckham, where the recent London riots unfolded.
"Yeah, you can't get too big for your boots coming from Peckham," chuckles the 22-year-old, born Kathleen Brien. "All the Rinse crew that I work with, like Geeneus, Zinc and Benga, tease me about it because of Peckham's reputation and the area [gang] wars, but I'm proud to come from there.
"More importantly, my mum and dad taught me that if you want something then you have to work hard for it. That's been an invaluable lesson," she acknowledges. "An example is me asking my mum for piano lessons, when I was a kid, but then I didn't practise so she stopped paying for them. That made me even more determined to practise. Then I found out I could sing, so I pursued that instead."
Her hard work and determination earned her a spot at the coveted Brit School, where she learned all about songwriting and the ins-and-outs of the music industry, and then a place at the esteemed Goldsmith's College, whose alumni include Malcolm McLaren, John Cale, Blur, Tracy Emin and Damien Hurst, where she undertook a degree in Popular Music.
"I knew I wanted to sing and do music as a career, but I didn't have a clue how to go about it," admits Katy B. "There isn't a rule book on becoming a singer, because it's not like getting qualifications as a doctor or an accountant. But the good thing about Brit School and Goldsmith's is they taught me all about writing, recording and producing.
"It was also really inspirational being surrounded by other people, just like me, and working with them to create music," she adds, smiling. "It was much better than me just sitting alone in my room, with my piano!"
With her passion for songwriting and dogged work ethic, Katy B admits she never once contemplated fast-tracking her career by leaping aboard the reality TV bandwagon and performing on the likes of The X Factor. Instead, she teamed-up with the respected London "Rinse" pirate radio crew of DJ Zinc and Geeneus.
"I know some singers have really benefited from The X Factor, like Leona Lewis and Will Young, but I didn't consider doing it," she says. "Being on a show like that would have felt as if I was gambling with my music and career, because you're not in control of what you're doing.
"It's such a big thing handing over your music - and self - to someone. You should only do it if you know and trust the people you're working with, which isn't the case with The X Factor," she suggests. "Luckily, I can be totally open and honest with the people I work with on a day-to-day basis, like Geeneus and Zinc. They would never make me do anything I felt uncomfortable with, or wasn't right for me.
"It's like I love the way Lady Gaga has the balls to go out in the clothes she does, just like I love Rihanna and Gwen Stefani's style, but I couldn't wear the things they do because it's not me and it wouldn't feel natural.
"Fashion - what I wear - has never been important to me," insist Katy B. "When I started out I'd just rock up on stage, without make-up, wearing an ex-boyfriend's old jumper because I felt - and still do - that I wanted people to like me for my music and not the way I look."
Katy B's desire to "keep it real" is why she shuns stardom and is dismissive of comparisons with her fellow ex-Brit School peers, like Adele and Jessie J. Instead, she'd rather be the singer name-checked by aspiring artists and the inspiration for young girls who dream of becoming singers and songwriters, just like her.
"Wanting to emulate my idols is one of the main reasons I wanted to create music and put it out on a wider scale, so if I can give that gift to someone else that would be amazing," she says.
"That would definitely be the biggest compliment, if someone said they were inspired by me to become a singer and a songwriter. That's the most I could hope for."
LOWDOWN
Who: Katy B
What: R&V Soundcheck
When and where: Vector Arena, September 29
- TimeOut