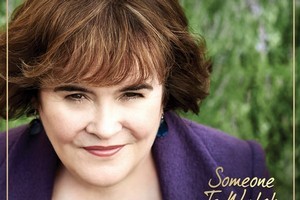 Singing Scot Susan Boyle has given fans another sneak peek of what they can expect from her eagerly anticipated new album.
SuBo, who rose to global stardom after her infamous audition on Britain's Got Talent in 2009, is set to drop her third album, Someone To Watch Over Me, in November.
And fans might be surprised by some of her song choices. Forget the yuletide standards - SuBo's heading for slightly different musical territory.
The 50-year-old singer will include a cover of '80s group Depeche Mode's classic hit Enjoy The Silence, Tear For Fears track Mad World, alongside Joni Mitchell's Both Sides Now and Lilac Wine, made famous by both Elkie Brooks and Jeff Buckley.
The album will also include a handful of original material, notably This Will Be The Year, which has been co-written by Emeli Sande.
Announcing the new album's track listing this week, SuBo told The Press Association: "There are certain songs that I liked that resonated with the letters that people had written and sent to me.
"I knew that's what my record needed to be about. They wrote about grief, love, happy and sad times, it was all deeply moving and the songs mirror the emotion and life experience."
Boyle performed her new track You Have To Be There, penned by Abba legends Benny Andersson and Bjorn Ulvaeus (and taken from their popular Swedish musical Kristina), on America's Got Talent earlier this month.
Check out her new single below:
Susan Boyle - You Have To Be There by Columbia Records
Aye, she's a gem. Welcome back, SuBo!
Susan Boyle - Someone To Watch Over Me tracklist:
1. You Have To Be There
2. Unchained Melody
3. Enjoy The Silence
4. Both Sides Now
5. Lilac Wine
6. Mad World
7. Autumn Leaves
8. This Will Be The Year
9. Return
10. Someone To Watch Over Me
- Blogger Bites Back