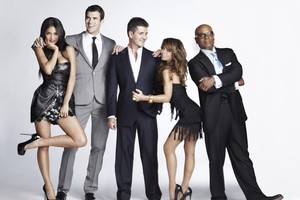 More countries have their own X Factor franchises than are playing in the Rugby World Cup. We aren't one of them yet. We're joining the club via TV3 next year, supposedly. And, gee who wouldn't want to be mentored by Paul Henry?
But plenty of us watched Australia's second X Factor series last year - won by Altiyan Childs, who was last heard saying he had earned less in the year since his victory than he had done in his previous gig as a forklift driver. Hey, but he did get to come to Auckland to play Christmas in the Park, so it wasn't a total waste.
And while another series of X Factor Australia has started screening across the Tasman in recent weeks - featuring Scary Spice Girl Mel B as a new judge alongside returnees Ronan Keating and Guy Sebastian - TV3 has opted to bring us the first series of the American show. It's hot off the satellite from tonight and running every Thursday and Friday until the chosen one (or group) gets the $US5 million ($6 million) recording contract prize.
This X Factor features the pope of telly talent quests, Simon Cowell, who first created the show for British television in 2004, as one of the judges. And although he left what was still a high-paying and high-rating gig on American Idol, this one has its advantages.
"The great thing about producing the show is you get to edit it. So you'd be surprised at how good you look and how bad other people look."
He's roped in Paula Abdul, who suffered through eight seasons of being mercilessly teased by him while sharing the American Idol judges' desk. The other judges are American music producer/executive L.A. Reid and former Pussycat Dolls lead singer Nicole Scherzinger. The latter was originally hired as a co-presenter but was promoted to judge to replace former Girls Aloud singer and British X Factor judge Cheryl Cole, who was was fired by the show's US broadcasters, Fox, reportedly because her Geordie tones might have required subtitles. There will still be more Brit accents than American ones among the X Factor team though, with MC duties being taken by Steve Jones, who has earned plenty of tabloid miles via romantic links to Heroes star Hayden Panettiere, Halle Berry, Natalie Imbruglia, and Pamela Anderson.
The first episodes have the show hitting the road across the US for the auditions which are open to singers of all ages as solo performers or groups. Once decided, the contenders will be split into categories - boys under 25, girls under 25, the over 25s and groups - and mentored by the four judges.
When: Thursday, 7:30pm; Friday, 7:30pm
Where: TV3
What: America's new mega-quest
- TimeOut