Good Living Street by Tim Bonyhady
Allen & Unwin $39.99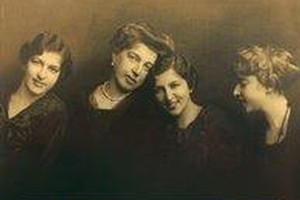 A family history. Also a social and intellectual history, and a different take on the Australian Dream.
Historian and environmental lawyer Tim Bonyhady follows three generations of Austrian Jews from the scintillating salons of late 19th century Vienna through World War I, Nazi occupation and growing persecution, to a made-for-television escape to Sydney, and a realisation that the struggle wasn't over.
Each of the book's four sections focuses on one woman and her generation. So Hermine is Klimt and Gas Lights; Gretl is War and Hoffman; Annelore is Austro-Fascism and Anschluss; Anne is Aliens and Identity.
Drawing deftly on diaries, letters, engagement books and baby books, Bonyhady takes us from a theatre outing for Anna Karenina to the Kristallnacht where Jews are murdered and synagogues burned, to a voyage across the world (travelling first class, bizarrely enough), and an antipodean arrival as refugees - "bloody reffos", they were frequently called.
The family of intellectuals and art-lovers moved into a Sydney home built "as if design did not matter, architecture did not pay, and aesthetics were for somewhere else". It meant a difficult and protracted adjustment and a series of family schisms.
Like most family histories, this one hates to leave anything out. But Bonyhady knows how to choose the details that linger: the wet nurses of one generation; the childhood friend who turns out to be illegitimate and is never invited home again; the 1700 Viennese Jews who become Roman Catholics to save their lives and the ones who end up in ghettoes or ovens because they keep their faith; the rawness of a new land in a summer of apocalyptic bushfires.
He's fascinated by the dramas - which also mean melodramas, tragedies and the occasional farce - of this varied, vivid family, and the swelling awareness of his own place in it, including "those moments that changed my place in the world".
The result is an engrossing, always accessible narrative.
David Hill is a Taranaki writer.