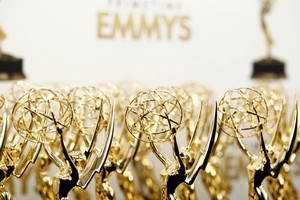 Comedy mockumentary "Modern Family'' took an early string of gongs at the Emmy awards, as US television's brightest stars came together for the Oscars of the small screen.
The show, at which cult ad agency drama "Mad Men'' was pitching for a fourth straight triumph, started on a lighter note with comedy categories, with "Modern Family'' taking the first four of the evening.
"Welcome to the Modern Family awards,'' ad libbed hostess Jane Lynch as she welcomed viewers back after the first break in the glittering show at the Kodak Theatre in Hollywood.
Early turns also included British comic Ricky Gervais, in a cut-edited recorded contribution riffing on his reputation for saying the unacceptable at awards shows, notably last year's Golden Globes where he was host.
Surprise visit from Charlie Sheen
Charlie Sheen, sacked from hit TV series "Two and a Half Men'' after a very public meltdown, drew admiration by wishing the show all the best with his replacement, Anton Kutchner.
And there were tears - notably from "Mike and Molly'' star Melissa McCarthy won best comedy actress, after she and her fellow nominees staged an "X-factor''-style huddle on stage to await whose name came out of the envelope.
Jon Stewart of "The Daily Show with Jon Stewart'' left it to his co-writers to speak for themselves when they won best writing for a variety, music or comedy program gong.
Drama categories were kept waiting for their awards until later in the star-studded show, which pundits had warned was among the most difficult to predict for years.
"Mad Men,'' the brilliantly-stylized series set in a 1960s New York advertising agency, is up against new HBO series "Game of Thrones'' and popular CBS drama "The Good Wife'' for the prized best drama award.
But "Boardwalk Empire'' is also among those hotly tipped for the Outstanding Drama category _ which "Mad Men'' has dominated for the last three years - while "Friday Night Lights'' and "Dexter'' are the other contenders.
While many pundits predict a fourth success for the ad drama, some eyebrows were raised when it only won a single award at last weekend's pre-Emmys Creative Arts Awards, against seven for "Boardwalk Empire.''
The New York series, shown on US cable network AMC, had among the most nominations overall, with 19 against 18 for "Boardwalk Empire.''
Strong showing from the Brits
But both of them are behind "Mildred Pierce,'' which started the race with 21 nods, including for British "Titanic'' co-star Kate Winslet, who took the award for best actress in a mini-series.
The Oscar-winning star plays a divorcee single mother who opens a restaurant to survive in the Great Depression in the drama, for which her English-born co-star Guy Pearce won best supporting actor Emmy moments earlier.
Winslet gave a short acceptance speech saying she "didnt think we were going to win anything'' - until her gong it had been having a disappointing night - before thanking her mother.
Winslet's success came on a big night for another British period drama, "Downtown Abbey.''
The show won the best mini-series Emmy, while veteran Maggie Smith won best supporting actress and Julian Fellowes, who wrote the British period drama, best writer of a mini-series.
Brian Percival also won best director for "Downtown Abbey,'' which tells the story of the aristocratic Crawley family in the stately home of the show's name.
Here is a list of winners in the main categories:
- best drama: "Mad Men''
- best comedy: "Modern Family''
- best miniseries: "Downton Abbey''
- best variety, music or comedy: "The Daily Show With Jon Stewart''
- best drama lead actor: Kyle Chandler, "Friday Night Lights''
- best comedy lead actor: Jim Parsons, "The Big Bang Theory''
- best mini-series lead actor: Barry Pepper, "The Kennedys''
- best drama lead actress: Julianna Margulies, "The Good Wife''
- best comedy lead actress: Melissa McCarthy, "Mike & Molly''
- best mini-series lead actress: Kate Winslet, "Mildred Pierce''
- best comedy supporting actor: Ty Burrell, "Modern Family''
- best drama supporting actor: Peter Dinklage, "Game Of Thrones''
- best miniseries supporting actor: Guy Pearce, "Mildred Pierce''
- best comedy supporting actress: Julie Bowen, "Modern Family''
- best drama supporting actress: Margo Martindale, "Justified''
- best miniseries actress: Maggie Smith, "Downton Abbey''
- best comedy director: Michael Alan Spiller, "Modern Family''
- best drama director: Martin Scorsese, "Boardwalk Empire''
- best miniseries director: Brian Percival, "Downton Abbey''

- AFP