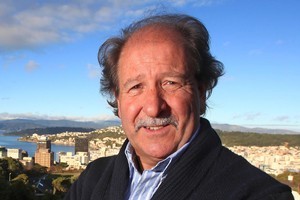 Well, that was weird. For a moment - actually for most of last week - the Rugby World Cup didn't seem to be about rugby at all. Between trains and drunks going off the rails, only 280-odd porta-dunnies for 200,000 people, the waka kids being beaten up, the return of Il Duce, the destructive effects of Queenstown cleavage plus what seemed like half the All Black team carted off to A&E, it was somewhat of a relief to turn on the TV over the weekend to find this RWC does still involve a ball and 30 grunting carthorses.
If the first weekend of RWC coverage was a study in grown men carrying on like a lot of over-excited schoolboys on a class trip, the fully grown fourth-formers seemed only to have refined the excitement during the first week.
In the hour before kick-off in Friday night's game between the All Blacks and a team Sky's Tony Johnson kept calling the "Brave Blossoms" - Japanese cannon fodder - the schoolboy madness seemed to have spread into TV One and TV3 current affairs shows too.
Campbell Live had a reporter giggling over the apparent excitement of interviewing fans in Hamilton, while Close Up strayed into stranger territory by having a child go head-to-head with Peter Bills, a rugby journalist from the 1970s.
I can't say it was much relief to move channels to Sky Sport for the pre-match ritual that always involves Johnson and his "panel of experts" - Willie Lose, Justin Marshall and Stuart Barnes in this case - attempting to drum up interest in the game, a game which was always going to be like the first day of the Somme, only less poetic.
The experts can be as technical as they like, but I really wish they'd said that, in this case, the whole thing's a bit of a waste of time for all involved.
I really can't understand why Sky's rugby commentary A-team - Grant Nisbett, Grant Fox and "Smiddy" - get such bad press. They have simply refined rugby commentary to its logical conclusion. They describe what you can see with your own eyes while speculating about what's going on in the players' heads while worrying about what the weather might do.
The English language may have a rich vocabulary, but only 50 words are apparently needed to describe rugby on TV and Nisbo, Foxy and Smiddy are in complete command of all 50. A perfect Sky commentary sentence might be this: "The Brave Blossoms were out-passioned in a clinical display by the mighty All Blacks who showed their wares with plenty of go-forward and commitment at the breakdown."
Of the extended Sky crew, only former All Black Stu Wilson - who helped call the Argentina versus Romania game on Saturday afternoon - shows any invention in his commentary, describing one Romanian as having taken "angry pills" and labelling the act of a player picking up another during a tackle as a "very wayward Gay Gordon".
Still, I stuck with Sky on Friday night like someone in a bad marriage, wanting to get out but too lazy to leave.
By Saturday night, however, I figured I should do a Tindall and see what else was on offer. It turned out there was a choice of one: Maori TV.
I have to say my reluctance to leave Sky is purely financial: if you're paying for it, you should use it. However it turned out Maori TV, which is offering all the games free if not necessarily live, was an okay one-night stand.
Maori TV's Te Arahi Maipi, joined by former internationals Gavin Hastings (Scotland) and Mark Ella (Australia), delivered a folksy and amusing commentary, with the cliches at least interspersed with the odd laugh, as they talked us through what was the game of the tournament so far, Ireland's humbling of Australia.
The trouble is Maori TV's sound has an odd quality, with this trio sounding as thought they were calling the game by phone with a TV turned up in the background.
The picture isn't as good as Sky's either. Maori TV seems to be taking the Sky TV feed, minus the commentary but including the graphics, only it doesn't sound as crisp or look as sharp because it's not in high definition. Does that matter? Well, yes. If I am going to sit through six more weeks of over-excited schoolboys playing at TV commentary, I don't want to do it wearing spectacles and a hearing aid.