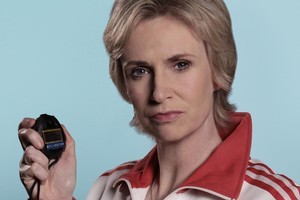 Forget their uniform of skinny jeans, skimpy cheerleading outfits and preppy designer clothes. The cast and crew of the hit television series Glee may soon discover that their fashionable wardrobes also require some thickly padded tin helmets.
After two seasons behind one of America's most talked-about programmes and with two Golden Globes, four Emmys and 10 million viewers under its belt, the musical drama's creators are aiming their satirical howitzers at the choppy waters of electoral politics.
A third series, which starts in the US on Wednesday, will feature an attempt by PE teacher Sue Sylvester, played by Jane Lynch, to run for the US Congress. Controversially, given Sylvester's pantomime villain status, Glee's profile among young viewers and the impending 2012 election, her bid will be built on an exaggeratedly conservative platform, so satirising the Republican right.
The first episode sees her appear on television news to endorse a favoured policy of the Tea Party movement: the abolition of the National Endowment for the Arts, a US government subsidy beloved of liberals.
In the same programme, she suffers an indignity that befell Republican presidential hopefuls Michele Bachmann and Newt Gingrich: a "glitter bomb" attack, in which opponents video themselves throwing glitter at Sylvester, before uploading the footage to YouTube.
Given the polarised state of US politics, the public airwaves are no place for light-hearted satire. So news of the storylines has enraged right-leaning pundits.
"This is unbelievably typical of Glee, which has become the most subversive show in the history of network television," said Ben Shapiro, an author whose recent book Primetime Propaganda highlighted what he describes as Hollywood's leftist agenda. "They are using Sylvester's character to mirror the rhetoric and policies of Michele Bachmann. When conservatives watch this show, it will be clear that the creators hate our guts."
Shapiro said Glee's status as a commercial hit had given its creators leverage to "insert more and more of their left-wing politics".
Sylvester is played by Jane Lynch, a Democrat supporter. She told the Hollywood Reporter: "[Sylvester]'s going to be more right-wing than Michele Bachmann."
The show's creator, Ryan Murphy, denied the election storyline was intended as a critique of the Tea Party. "I would tell you if [Sylvester] was based on someone ... but I don't think she is. In fact, she establishes her own political party. She runs against both Republicans and Democrats. So to be clear, it's not a Tea Party thing: she hates everyone."
- INDEPENDENT