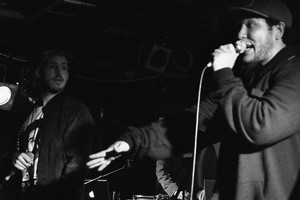 "Make some noise for your motherf**king life right now," Tom Scott urged the charged crowd. This was hip hop as it's meant to be - music that scoops you up off your feet, charges your mind, and makes you glad to be alive.
@Peace kicked off their set with Home from their self-titled debut - although the group hail from Auckland, it felt like they were home at the Bath House on Friday.
Having given Wellington an intimate taster of the @Peace experience a couple of weeks before, there was much anticipation around this show. And it was deserved.
Against a body-moving soundscape created by El Truento on beats, B-Haru on keys and drums, and Dick Dastardly on beats and sax, Tom Scott and Lui Tuiasau had the audience eating their words up like a late-night kebab.
It was clear that Scott and Tuiasau wanted to be there, and they had shit to say. No rhymes about bitches or gun-running here, just realistic portrayals of the life of two 'Nobodies' who "stand in the WINZ line".
Getting the crowd to chant "f**k John Key" in their stand-out track Be Like, @Peace reminded us that, at its roots, hip hop - like reggae, blues and funk - is party music underlined by the daily struggles of the underclass.
Those looking for some 'real' New Zealand hip hop found it on Friday, piece by peace.
Who: @Peace
Where: San Francisco Bath House, Wellington
When: Friday, September 9
- Volume