Seattle stalwarts Pearl Jam kicked off their 20th anniversary celebrations over Labour weekend in the US, bringing acts like Queens Of The Stone Age, The Strokes, Mudhoney and Liam Finn to the Alpine Valley Music Theatre in East Troy, Wisconsin.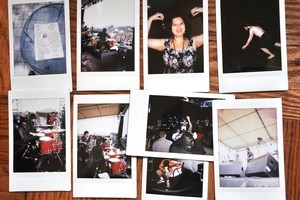 Walking through a sea of bogans chanting "USA! USA!" then crossing the barrier into a sea of musicians who define a generation of American grunge and rock, one becomes very aware of the thin lines that demarcate.
The physical barrier between backstage and the Pearl Jam 20 punters meant jack shit in the grander scheme of communal celebration and camaraderie.
Everyone from the dude who played Hyde in That 70's Show, to the 17-year-old backstage security who tried to deny Chris Cornell from going onstage because he didn't have the right pass, to the 40-something year-old cougar who'd travelled miles in various pieces of leopard-print design, everyone was there to join PJ in blowing out their proverbial candles.
Pearl Jam themselves drove this home throughout the festival, each musician in the band making a point of joining the various acts on day two.
Mike McCready, Jeff Ament and Matt Cameron with Joseph Arthur, Eddie Vedder having a whack on the drums with Liam Finn, a spine-tingling hoon on Juicebox with The Strokes, and giving the fans more cowbell on QOTSA's Little Sister.
To a handful of New Zealanders plunked into the heart of Middle America to celebrate the 20th anniversary of this seminal band, it was buzzy as.
- Volume