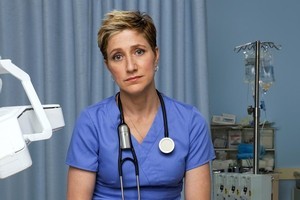 True, the 63rd Emmy Awards may not be the most gripping contest on our screens this week. Even with Glee's Coach Sylvester (Jane Lynch) fronting the American TV prize-giving it will still be three hours of thank-you speeches. But look closely enough and the major categories throw up some questions ripe for pop culture debate ...
* Can Mad Men win a fourth outstanding drama series gong in a row? It faces some new competition from the new HBO productions Boardwalk Empire and Game of Thrones.
* And can Mad Men lead actor John Hamm finally win the best actor prize after three previous nominations? His closest competition may come from Timothy Olyphant for Justified.
* Talking of Boardwalk Empire, can Martin Scorsese, long snubbed for a best director Oscar, win for directing an episode of the show? He's up against Jeremy Podeswa for another episode of Boardwalk, as well as Irish movie director Neil Jordan for The Borgias.
* Can Modern Family win a second outstanding comedy series Emmy this year - or will the departure of Steve Carell from The Office swing it?
* That being so, will Carell finally get the lead actor in a comedy series award? He's been nominated ever year since 2006 and hasn't won yet.
* Will our own Phil Keoghan win yet another Emmy as producer on reality show The Amazing Race which scooped this award in the years 2003 to 2009, before being pipped by Top Chef last year?
* In the best actress in a comedy category will it be the cancer sufferer (Laura Linney in The Big C), or the pill-popper (Edie Falco in Nurse Jackie)?
* Can the Brits of Downton Abbey scoop the mini-series Emmy from the heavweight American competition which includes The Kennedys?
* Can Dame Maggie Smith as Downton Abbey's Dowager Countess take the supporting actress in a mini-series award?
* Will movie stars like Kate Winslet in Mildred Pierce and Kathy Bates in Harry's Law take the awards from established TV faces?
When and Where: Vibe, noon, Monday (live); Prime, Monday, 9.30pm
What: US TV's big night
- TimeOut