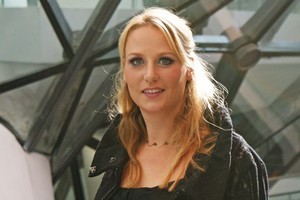 Friday night drinks? Meet me at: Library or Matterhorn.
Where I'll be wearing my new: Vintage dress.
And this weekend I'm planning on: moving out of the city and on to a farm in Horokiwi.
But first I'll need to refuel at my favourite cafe: Maranui Surf Club, Fidels, Lido or Memphis Belle.
Saturday evening. If my dreams came true there would be a gig by: Muse.
But if there's nothing else going on, I'll probably just: go out for an early meal and a drink somewhere on Cuba St (preferably somewhere ethnic) and catch a theatre or opera show afterwards.
Playing on my stereo/headphones right now is: The Black Cat Neighbourhood, Fallulah.
The books I can't put down are: The Sea, The Sea by Iris Murdoch and Birds without wings by Louis de Bernieres.
The TV show I take the phone off the hook for: Nothing at the moment, but it used to be Outrageous Fortune.
The movie I've been dying to see: The Tree of Life, written and directed by Terrence Malick.
A non-cooking Monday night means takeaways from: Dawaat, the best Indian in Wellington and possibly the world.
Or a splash-out Wednesday night restaurant would be: Finc.
* Hedda Oosterhoff is the Pettman Dare International Performance Scholar and AV Artist for the NBR NZ Opera's production of Cav & Pag, opening in Auckland tonight.
- TimeOut