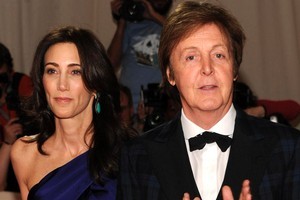 Love me do: Sir Paul McCartney's wedding to fiancée Nancy Shevell is "imminent", according to a report.
The ex-Beatle, 69, and the 51-year-old American heiress reportedly flew to the UK from New York last week to prepare for the impending nuptials.
Britain's Mirror newspaper claims McCartney is keen to avoid the kind of media circus that surrounded his lavish wedding to Heather Mills.
McCartney and Mills' wedding was quite the extravaganza. They got hitched in a 17th century Irish castle in 2002. It's rumoured that the shindig set them back a whopping $3.2 million.
The pair ended their marriage with a bitter, messy divorce in 2008.
Speculation is rife that McCartney and Shevell have their hearts set on a small, intimate ceremony with friends and family at the singer's farmhouse in Sussex, South East England.
According to In Touch magazine, crates of wedding supplies, including champagne flutes, have already been seen arriving at McCartney's 933-acre estate.
Although a date has not been disclosed, it's expected that the wedding will take place within weeks - if not sooner.
The Mirror quotes a source as saying: "They will be marrying imminently. They are very excited and almost everything is in place. Friends and family have been put on standby."
It was reported in May that the couple planned to tie the knot in a small ceremony at Shevell's Hamptons home, but the bride-to-be later opted for a UK wedding instead.
She reportedly told pals she planned to get married sometime "after Labor Day" - the first Monday in September. Which has been and gone, so let the countdown begin.
The source continued: "Nancy would have liked to get married in New York but she knew an English wedding would make Paul happy.
"In the end they decided to marry in the UK and have a party for all their American friends at their home in the Hamptons later.
"I don't think I've ever seen a couple so besotted with each other."
Asked about her wedding plans by New York Post columnist Cindy Adams earlier this year, Shevell said: "It will be small. Just our families. I don't know the exact date."
The pair are said to be heading back to the US soon for the opening of McCartney's debut ballet, Ocean's Kingdom, "but could return for the wedding as early as next month," reports the Mirror.
The marriage will be McCartney's third. His first wife Linda died of breast cancer in 1998. He married Mills in 2002, with whom he had a daughter, Beatrice. They split in 2006.
McCartney and Shevell started dating in 2007, shortly after she separated from first husband Bruce Blakeman. They confirmed their engagement in May of this year.
Update: According to Us Magazine , Macca will be tying the knot sooner than expected - this weekend!
"It will be a small, intimate wedding," says a source. "It's going to be very elegant and classic."
I'll keep you posted...
Speaking of vow-swapping and finger bling...
Is Britney Spears on the verge of marriage?
Rumour has it that the pop princess is prepping to saying 'I Do' for a third time and wed her longtime beau and former agent, Jason Trawick.
Trawick, 39, was spotted bauble shopping at high-end jeweller Pascal Mouaward in Los Angeles on Monday, sparking speculation that he's about to pop the question.
"They discussed diamonds from the Mouawad private collection. It's Jason's first visit with Pascal," a source told the gossip hounds over at X17 Online, adding, "They spent an hour talking about engagement rings for Britney."
Really?
No. "There is no truth to that report with regards to engagement rings," a rep for Spears said in a statement. "However, Jason was there to discuss other matters with Pascal, but nothing relating to him personally."
Spears is no stranger to trotting down the aisle. In 2004 she married longtime friend Jason Allen Alexander during a quickie ceremony at The Little White Wedding Chapel in Las Vegas. But the marriage was short-lived - it was annulled less than 55 hours later.
Later that same year, Spears wed backup dancer Kevin Federline. She later filed for divorce in 2006.
Blogger Bites Back