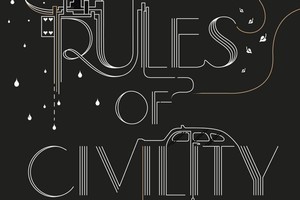 I'm sure the person who coined the phrase "a picture paints a thousand words" thought a thousand words sounded like a lot. But a single picture can paint - or at least inspire - far more words than that.
Tracy Chevalier wrote Girl with a Pearl Earring after spending more than a decade gazing up at a poster on her wall of the Vermeer painting of the same name. Don DeLillo's novel Mao II was inspired by two photos: of J.D. Salinger fending off photographers in New York, and of a Unification Church blessing ceremony. A.S. Byatt once wrote a collection of short stories each inspired by a Matisse painting.
And début novelist Amor Towles has spun a collection of photos into 80,000-odd words in our September feature read Rules of Civility, about a young woman navigating 1930s New York society.
In the early 1990s Towles came across a collection of portraits captured by a camera hidden on the New York City subways in the late 1930s. The photographer was Walker Evans, best known for an earlier series of photos that immortalised the heartache of the Great Depression in rural America.
Copies of some of the New York photographs punctuate Rules of Civility. You can view more on the Metropolitan Museum of Art website. I warn you - flicking through them is addictive, and there are 620 images on the site. It's fascinating to glimpse a candid moment in the lives of everyday people of another time and place, and guess at their thoughts.
You can see how the photographs inspired Towles to write a novel, more than a decade later. He says on his website that the book began with the idea of someone attending the opening of Evans's New York exhibition - which didn't happen until the 1960s - and recognising a figure on the wall who had gone through a transformation.
The attendee became Katey Kontent, the heroine of the novel, and the portrait became that of her one-time love, socialite Tinker Grey.
Towles writes on his website: "One of the reasons the Evans portraits stayed with me all those years is that they are fundamentally haunting - and, in part, I think this is because they manifest the public/private paradox of the subway ride.
"On the one hand, these commuters are in the most public of environments - a crowded subway car in the largest, most racially diverse city in the world. But on the other hand, the anonymity secured by this chance gathering of strangers, by the relative brevity of the ride, and by that start-of-day/end-of-day weariness, all seem to prompt the riders (or allow them) to drop their guard.
"We, as viewers, thus get a glimpse not simply of social class and ethnicity, but of the individual histories, sentiments, and dreams, that lie just beneath the surface."
We're trying to pin down Amor Towles for a Q&A next week, so we might find out more about his inspiration. I'm about a third of the way through the book and becoming more engrossed in his recreation of 1930s New York with each page I turn. I'll keep you posted.
Check in with us on Friday for a Q&A with Rachel Simon, author of Christine's September feature read, The Story of Beautiful Girl.
Thanks for all your entries in our competition this month. We'll share some of your carefully considered answers in the next few weeks. Congratulations to Alan Wheatley, Kate Duggan and Sandra Haigh, who each win a copy of The Story of Beautiful Girl.