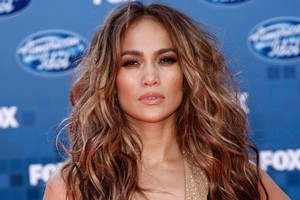 Newly single Jennifer Lopez has the perfect hangover cure for her break-up from Marc Anthony - actor Bradley Cooper.
Rumour has it the American Idol judge, who recently split with hubby Anthony after seven years of marriage, has her sights set on none other than Hollywood's leading ladies-man, Cooper.
The net has been abuzz with a report that J.Lo, 42, was spotted breaking bread with The Hangover star, 36, while on a romantic dinner date at New York City's restaurant Per Se on Saturday night.
According to scandal sheet TMZ the pair appeared to be having a "romantic" time at the eatery. Just the two of them. No third wheel.
A fellow diner spied J.Lo and Cooper chowing down in the pricey restaurant's main dining room, which apparently has only 16 tables and reservations must be made months in advance.
A spy tells HollywoodLife.com that the twosome looked decidedly "flirty" as they exchanged coy glances and worked their way through the $295-per-person price fixed menu.
So what's the lowdown on the A-listers' cosy get together? Business or pleasure? Brannifer be born?
Cool your jets, ladies and gents - it's all strictly platonic, according to People.com.
A source tells the website that there's no fancy footwork going on between the pair. They're merely "in discussions regarding a project", rather than on a hot date.
Another snitch also tells E! News that J.Lo's Cooper-coup was no romantic hook-up.
The American Idol judge "was simply in New York doing promotion for her new Kohl's collection and took full advantage of being on the East Coast, taking several meetings for various creative endeavours," reports E!
Cooper split from Bridget Jones star Renee Zellwegger back in March after a year of romancing. He's since been linked to a bevvy of ladies, including Olivia Wilde, Charlize Theron and, yes, she who looks for love in all the wrong places, Jennifer Aniston.
Lopez and Anthony announced their shock split on July 15.
"We have decided to end our marriage. This was a very difficult decision. We have come to an amicable conclusion on all matters," the couple said in a statement. "It is a painful time for all involved and we appreciate the respect of our privacy at this time."
Still, while the well-oiled PR machines titillate the tabs with tales of a fledgling love, there's no denying Brannifer would make a cute couple, no?
Still looney for Clooney
Silver fox George Clooney and his latest squeeze, former wrestler Stacy Keibler, are taking their showmance tour to the Toronto International Film Festival.
Clooney's latest flick, The Ides of March, premiered at the fest on Friday.
Although Clooney, 50, and Keibler, 31, gave the arm candy routine the shove on the red carpet, they did rock up at two separate parties on Saturday.
The pair, who were romantically linked in August, were spotted together at two separate parties on Saturday night, reports Us Magazine.
"They were comfortable and affectionate and seemed socially poised as a couple," a source said. "The two clearly work not only as a pair, but also independently. [Stacy] really stood on her own. George was not overprotective and didn't have to look after her."
The spy added: "She was confident in her own space. She would come over to [George] and rub his back, then separate from him again... I've never seen him more comfortable."
Clooney split from Elisabetta Canalis in June after almost two years of dating.
Keibler addressed her rumoured romance with the Cloonster last week. Asked what she likes about the Hollywood hunk, she replied, "everything!"
She's certainly well trained.
Clooney recently flew Keibler out to his home at Lake Como in Italy, where the former WWE tweeted: "I'm in heaven!"
Serial heart-breaker Clooney could be in for some strife when he drops the bomb and dumps her. Chokeslam and dropkick, anyone?
P.S. Don't EVER ask Clooney about dating.
Watch what happens when a cheeky reporter quizzes Clooney about his love life.
Madonna to hydrangeas: 'F*** you, I like roses!'
And so the Madonna vs. hydrangeas drama trundles on. It's the floral gift that keeps on giving.
After a video went viral last week of the 53-year-old Material Girl dissing a bouquet of hydrangeas she received from an adoring male fan at the Venice Film Festival, she's taken matters into her own hands - with a new YouTube video.
In the silent clip, Madge lovingly strokes a bunch of hydrangeas, to the tune of the score from The Godfather, accompanied by an apology:
"You have no idea how many nights I have lost thinking how I hurt you. Words cannot express how sorry I am. If I could take back my words I would but I can't, so what am I left with?" she asks.
Suddenly, the gloves are off, and she changes her tune.
"I'm left with the fact I still hate hydrangeas! And I will always hate them!" reads the text. "It's a free country! So f**k you, I like roses!!"
She loves you, she loves you NOT...
Blogger's Briefs
* Demi Moore tweets topless photo of herself
* Rihanna to feature on new Coldplay album
* Top Gun coming to theaters in 3D
* Jamie Foxx to host Michael Jackson tribute concert
* Spartacus Andy Whitfield dies - tributes
* Christina Aguilera axed from third series of The Voice?
* Sex and the City prequel is a go!
* Kat Von D is stressed and losing her hair; wearing wigs
* Twilight: Breaking Dawn teaser breaks on to net. You know a movie's going to be huge when there's a promo for the flick's promotional material.
Take a peep at the just-released blink-and-you'll-miss-it promo for Twilight: Breaking Dawn - Part 1.
The clip features a knocked-up Bella (Kristen Stewart) clutching her preggo tummy, while baby daddy and vampire hubby Edward Cullen (Robert Pattinson) looks on with trepidation.
Oohs and ahhs in all the right places...
The 15-second teaser comes ahead of a new full trailer, which is due to hit the net on Wednesday.
Blogger Bites Back