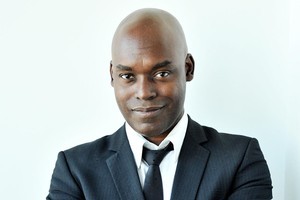 Cameron Bailey, co-director of the Toronto International Film Festival (TIFF) admits he is managing four to five hours sleep a night as the festival approaches. He is sitting in his office in the newly constructed glass and steel Bell Lightbox complex, which comprises cinemas, restaurants and conference spaces. It opened its doors during the festival last year, though only part of it was operational. This year for the first time it will truly become the festival hub. Interestingly it's built on land donated by the Reitman family, Ghostbusters Ivan and his two sisters, and sits on the newly named Reitman Square.
"The land was valued at $22 million and it's right in the heart of downtown Toronto," Bailey explains. "Ivan's family had a carwash on it for many years. They're immigrants Holocaust survivors from Europe [Communist Czechoslovakia] who came over and started a number of businesses and worked very hard."
Reitman and his son Jason are very much a part of Hollywood royalty, and in the past have brought a sense of Hollywood to TIFF, most recently with Up in The Air, which went on to receive six Oscar nominations including for George Clooney. How does TIFF feel about being the number one American festival, given that in most ways Canada lives in the shadow of its powerful neighbour?
Bailey chuckles and responds diplomatically. "Well, you know, when it comes to movies I really feel like it's really just one world where national boundaries don't matter so much. Films are made between countries these days and filmmakers and actors work across borders all the time. We have through many different factors, some of them planned, some of them accidental, become a very important festival in North America and we happen to be at the right time of the calendar as well. So you'll find a lot of the major American films making their world premieres in Toronto, whether that's the new Bennett Miller film, Moneyball, with Brad Pitt, or the new Alexander Payne film, The Descendants, with Clooney. This is just a good place and a good time to watch those movies."
TIFF is a huge operation. Bailey says cinema attendance runs at around 300,000, there are 3000 industry delegates and 1100 journalists. Last year's 100 world premieres was a record, and this year, he says, they have gone even bigger, with 123, and 336 feature films in the program overall.
Meanwhile local distributors of the festival's films will have to pay hefty fees for journalists' access to the high profile stars and directors, given the prohibitive costs incurred by the PR companies conducting them. This is not unique to Toronto of course and is possibly even more expensive in the salubrious climes of Venice and Cannes, where the going rate seems to be 600 Euros for a roundtable interview, and often more than double that for a one-on-one.
Still in Toronto you can catch a glimpse of a myriad of stars for free. Often they don't even give interviews as they really have come to provide encouragement towards the sale of their films, on the red carpet and maybe at a press conference. Last year Olivia Newton-John turned up as the star of the Festival opener, Score: A Hockey Musical, while Bruce Springstein was in town for The Promise: The Making of Darkness on the Edge of Town and gave only a press conference, while the year before Oprah made her only promotional appearance as the executive producer of Precious at the film's press conference.
There are a myriad of cocktail parties where a lot of business goes on, yet it's not like in Venice, Berlin and particularly Cannes, where even the likes of Brad Pitt can be intimidated by the pomp and ceremony. Newcomer Jessica Chastain seemingly had to be propped up between Pitt and Sean Penn for The Tree of Life's premiere, while the world photographers recorded her every move.
In Toronto it's more about audiences and the local folk aren't particularly glamorous. They're interested in seeing movies. Accordingly the only significant Toronto prize is given by the audience, who frequently recognize eventual Oscar winners, The King's Speech last year and Slumdog Millionaire in 2008.
"I don't think the awards season is so important for us," Bailey notes, "but it's certainly very important for the filmmakers who come here. They know that if they have a film that they think has some kind of awards contention, they want to position it for a Toronto launch."
So how do films fare if they premiere in Venice instead? Generally very well, as most move on to Toronto or other festivals in any case. Still, Venice director Marco Muller, who insists on world premieres, gets them first.
This year two Irish co-productions will have world premieres at the two festivals. The Mary Harron-directed UK-Canadian The Moth Diaries will screen in Venice before moving on to Toronto, while Rodrigo Garcia's Canadian-Irish film Albert Nobbs premieres in Toronto.
Set in Dublin and shot in the city last December and January, Albert Nobbs stars Glenn Close as a woman passing as a man in order to work and survive in the 19th century. The film has been a dream project for Close, who won an Obie Award in 1982 for playing the Nobbs character in an Off-Broadway production, which was based on the same George Moore novella, The Singular Life of Albert Nobbs.