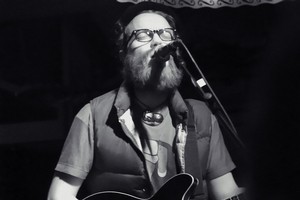 Summoning the crowd to the dance floor with a jam reminiscent of Mara TK's roots in blues and psychedelic grooves, Electric Wire Hustle announced their intention to bring their unique blend of forward-thinking hip hop, soul and rhythm to Sale St on a crisp Saturday evening in Auckland.
The dance floor was quickly transformed into a mass of head nods and spontaneous dancing with They Don't Want, joining the dots between Marvin Gaye, J Dilla and Charles Mingus.
Setting the tone to simmer with Chaser, the Wellington trio then went about weaving a selection of material from their debut EP Waters and 2009 album Every Waking Hour.
2011 has seen Electric Wire Hustle tour the States and Europe, playing to massive crowds at festivals like Glastonbury and Sonar.
Somewhere in between all this touring they have managed to start work on their new album, and all in attendance at Sale St were treated to a taste with new single If These Are The Last Days.
Some of the newer material may have been lost on some in the crowd, but those who are up on the future bass, 2-step, juke and garage scenes coming out of Europe and the States got down to the heavy bass lines, synths and rhythms EWH laid down.
Mara TK's vocal performance was hypnotising, Myele Manzanza's percussion was on point, Taay Ninh and Benny Tones' control of the MPC and keyboards left any further music experiences for the evening surplus to requirements.
What: Electric Wire Hustle
Where: Sale St, Auckland
When: Saturday, September 3
- Volume