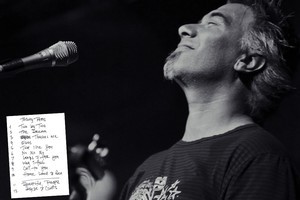 TrinityRoots' third coming saw a refigured lineup coming together to continue the legacy of one of New Zealand's best-loved bands.
The diversity of the crowd underlined the esteem in which Trinity are held, with fresh blend of deep roots reggae and psychedelic rock only part of their appeal.
That undeniable bro-ish charm is undoubtedly another part; yet these are jazz school alumni with serious musical chops, unafraid of stretching songs live every which way. So shit was hype. Anticipation was high. And due to one of the founding members leaving the band only a few months ago, there was genuine excitement: who the hell was going to replace sticks man Riki Gooch?
Opening act Tyra Hammond and The Bluebirds didn't so much heighten anticipation, as cause a certain amount of restlessness. Everyone loves each of those guys - and Tyra is a genuine star - but a handful of seemingly hurriedly put together blues covers did them no favours. Thankfully they closed with a couple of tracks from the Opensouls' excellent Standing in the Rain album.
Any concerns about the punters' attention spans were dashed the instant TrinityRoots took the stage, opening with an expansive version of Two By Two. It must've been terrifying for new drummer Jean Pompey to step into this scene, but she showed no sign of nerves, as she set about pummelling her drums right from the outset.
Lacking the power of Gooch, she made up for it with her dexterous and busy playing; and the group sounded as cohesive as ever - if not more so. Her warm vocals were a welcome addition, and the harmonies she, frontman Warren Maxwell and bass player Rio Hunuki Hemopo (alongside the shadowy figure of Mark Vanilau, who added keys and guitar) cooked up stepped the sound to another level.
Indeed, an unexpected highlight was Pompey singing Dawn Penn's No No No from behind the drums.
From a loping, lolloping ride through The Dream, a fiercely dubby version of Egos and an outstanding reading of Home, Land & Sea, it was clear to the adoring crowd that, even without one of their cornerstones, TrinityRoots are still capable of laying down music that breaks through barriers, transcends age and race, and unites those who really care to listen. Amen.
What: TrinityRoots with Tyra Hammond and The Bluebirds
Where: The Powerstation, Auckland
When: Friday, September 2
- Volume