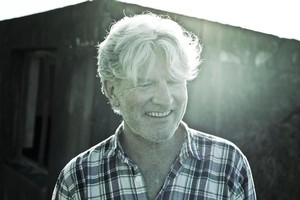 Tim Finn and his little brother will be dusting off their songbooks for the pre-tournament festivities tomorrow night, but the elder's latest solo album shows his side of the family jukebox has just undergone a major refresh.
This, his ninth solo album since 1983's Split Enz-resignation letter Escapade, is among his strongest, especially after the mild indulgences craved by his preceding sets, 2009's low-key DIY The Conversation and the finicky 2006 Imaginary Kingdom.
This one walks a straight old line between breezy and reflective on a set given a rich, warm, and lively delivery with help from American producer Jacquire King and band with long-time sideman Brett Adams adding many a shining guitar touch around the edges.
The settings might be mostly domestic - three tracks are co-credited to Finn's wife Maria Azcona - starting off with The Everyday's ode to the happiness of home. But it also has time for the exotic - the chamberpop ballad People Like Us reminds of early Enz of the 129/Matinee Idyll era.
The big-finish of the widescreen title track almost echoes the grand finale of Six Months in a Leaky Boat. That song nicely tied the autobiographical to the universal, which is what The View Is Worth The Climb does neatly throughout, making it a terrific album to please the Finn-atic and casual follower alike.
Stars: 4.5/5
Verdict: He still writes them like he used to
-TimeOut