The selectors have made their choices. Now Scott Kara looks at how the TV sides stack up.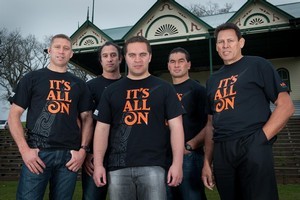 If the Rugby World Cup commentary teams had their own tournament then TimeOut's money would be on Maori Television to win.
With a fearsome front row including Kees Meeuws and Norm Hewitt, loosies Buck Shelford and Pat Lam, an international backline made up of Kiwi Glen Osborne, Aussie maestro Glen Ella, and Scottish playmaker Gavin Hastings, and with commentary legend Keith Quinn as coach and Maori TV's voice of rugby Te Arahi Maipi as his assistant, they would be unbeatable. In fact, we reckon they'd give Namibia, Russia and Romania a run for their money.
Meanwhile, over on Sky, TV3 and TV One, it's the seasoned rugby and sports commentators who will anchor the coverage with a range of experts, former All Blacks and players offering their wisdom on the side.
But whoever's calling the game, there is no denying the coming weeks are rugby viewing nirvana - until the South Africans and English start playing force-back, that is. So here it is, where to see the rugby and what the different networks have in store.
It's game time, with kick off in the first match between the All Blacks and Tonga at 8.30pm tomorrow night.
MAORI
With 246 caps between them the experience and rugby knowhow in the Maori TV (Freeview 05/Sky 19) commentary ranks is their strength. That and the fact they are the go-to free-to-air channel, showing all 48 games, including 16 live games (taking in key matches as well as the quarters, semis, and final). As well as those mentioned above, commentators include outspoken Aussie Peter Fitzsimons, former French player Tony Marsh, sevens star Karl Te Nana and former Tonga captain Inoke Afeaki. In typical Maori TV style there will be more than a few laughs in between serious game-time banter, especially with resident stand-up comedian and musician Glen "Oz" Osborne involved. And Meeuws has been known to play a mean Ten Guitars too.
The Maori TV coverage will be in English, but the Te Reo channel (Freeview 24/Sky 059) will screen all games with Maori commentary led by veteran caller Hemana Waaka.
Coverage starts: Friday, 7pm, with opening ceremony followed by first match, All Blacks v Tonga, 8.30pm
Extra time: Sin Bin (Thursdays, 8pm) Rugby World Cup news and insights presented by Toi Iti. The Game of Our Lives (starts Sep 27, 8.30pm) Repeat of 1996 four-part series documenting history of rugby in NZ.
Ka Mate: The Haka The Legend (Oct 1, 8pm) Explores the history of our most famous haka.
SKY
Nisbo, Smithy, and Foxy were told to smarten up earlier this season, being told they were not required for the World Cup unless they started using their real names. So they are back as Grant, Ian, and Grant, alongside veteran broadcaster Tony Johnson and motormouth and rule-book thrower Justin Marshall. The team also includes familiar faces Ian "Kamo Kid" Jones, regular commentators Scotty "Sumo" Stevenson, Murray "Foot in his mouth" Mexted, and the sole girl among the guys, Melodie Robinson, as well as guests such as South Africa's 2007 World Cup winning coach Jake White.
Other than the opening match the key games in first week are Argentina v England (Saturday, 8.30pm), Australia v Italy (Sunday, 3.30pm), and South Africa v Wales (8.30pm).
Coverage starts: Friday, 6pm with build-up, opening ceremony, and first match
Extra time: The Cup Goes Wild (Weeknights, 6.30pm, Sky Sport 1 and Prime/replay, 7pm, The BOX) Mob from The Crowd Goes Wild in RWC mode.
Re-Union (Tuesdays, 8.30pm, Sky Sport 1) Tony Johnson and guests' in-depth look at the week's matches.
World Cup Stories (Saturdays, 2pm, Sky Sport 1) Keith Quinn is joined by past and current players who recall their cup stories.
Rugby Roast (Sundays, various times, Sky Sport 1) John McBeth looks at the week gone, and games ahead.
TV3
Gunning for a more irreverent and no holds-barred approach to cup coverage, TV3 have likely picked the right men for the job in cheeky Andrew Mehrtens, jolly Josh Kronfeld and enforcer Richard Loe to team up with main men Hamish McKay and former TV3 journo-turned-Sky Britain's rugby man, James Gemmell.
Though only screening 15 games - with a mix of live and delayed coverage - the important quarter finals, semis, and final matches are live. Their first live free-to-air game is the All Blacks v France on Sept 24 at 8.30pm.
Coverage starts: Friday, 11pm, All Blacks v Tonga
Extra time: Cup Talk (Daily from today, 10.30pm or 11pm) Host James Gemmell debates the day's play with guests including McKay and Mehrtens, comedian Ben Hurley, Herald rugby writer Wynne Gray and columnist Phil Gifford, among others.
One off the Ruck (online at 3news.co.nz) Hosted by Hilary Barry, Mike McRoberts and John Campbell take on Hamish McKay and Jim Kayes in a rugby panel discussion.
TV ONE
Old hand Andrew Saville is joined by irreverent hired gun Martin Devlin to lead the channel's rugby coverage along with former All Black captain Taine Randell and Jeff "Goldie" Wilson, both of whom know a few things about the highs and lows of World Cup tournaments. Devlin hosts live pre-match coverage, with Saville and Wilson in the commentary box for the game and Randell cruising the sideline.
"For me this is what sport is all about, it doesn't get better than this," says Devlin. "We have the chance to win a world championship in our own backyards - and for Kiwis this is the one to win."
Coverage starts: Friday, 4.55pm, Opening celebrations; 7.30pm, Opening ceremony followed by first match.
Extra time: RWC 2001 Tonight (daily, various times) Devlin hosts this late night highlights show and expert panel discussion.
- TimeOut