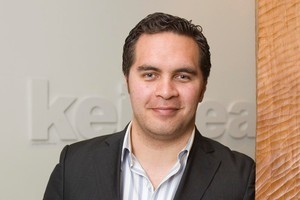 Friday Night Drinks? If I've been good, out with the boys to wherever the beers are cold. Tried Snatch on Ponsonby Rd last weekend - nice place, great music (90s hip-hop is my jam).
Where I'll be wearing my new: Old boots. My wife hates them but I'm wearing these bad boys until I can't cut shapes in them no more.
And this weekend I'm planning on: Watching my big son Tuteauru and the Te Atatu Roosters - Auckland U13's Rugby League.
But first I'll need to refuel at my favourite cafe: McCafe. Ha ha, I know, not that flash but they seriously make the best hot chocolates and it's just up the road from the footy park.
Saturday evening. If my dreams came true there would be a gig by: Jodeci singing the entire Diary of a Mad Band album. Otherwise, the Eagles (I know, strange mix).
But if there's nothing else doing I'll probably just: Play league on my knees in the lounge with my sons.
On my stereo/headphones right now is: Mai FM, my mate Wairangi Koopu is the breakfast host and he's hilarious. Plus I'm not allowed to play Jodeci or the Eagles in the car anymore. My trills drive the whanau crazy.
The books I can't put down are: Honestly, I have never read a book from start to finish in my life. I got up to chapter 10 of Angels and Demons and that's it. If someone has a book for a person with the attention span of an ant, call me.
The TV show I take the phone off the hook for: There's this sports show on Maori TV called Boil Up that has the coolest, most interesting, funniest guy. Hang on, that's me! I love The Good Wife and True Blood too.
The movie I've been dying to see: The latest Harry Potter flick. I've been so meaning to take my little son, Tupaea. One day soon baby, Daddy promise.
A non-cooking Monday night means takeaways from: My kryptonite - KFC. I can't resist it. I hold the Waikato Uni record for eating it for brekkie, lunch and tea three days straight (still standing since 2001)
Or a splash-out Wednesday night restaurant would be: Hansan Vietnamese Restaurant in Newmarket. If it were closer to our home it would be a splash-out Wed, Thu, Fri thing.
* Te Arahi Maipi is the lead commentator on Maori Television's 48-game, free-to-air Rugby World Cup 2011 coverage.
- TimeOut