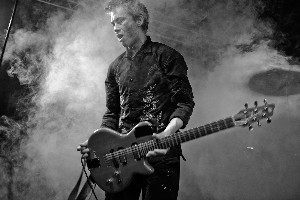 After spending almost a decade weaving magic with High Dependency Unit, Tristan Dingemans found himself in a malaise.
The Dunedin trio had toured overseas, released a raft of fine EPs and albums, but when HDU essentially called it a day in 2002 he went through a period of barely even listening to music.
"For a number of years I lost touch with music utterly," Dingemans reflects, sitting in the sun by the coffee cart he ably mans in Dunedin's Exchange. "I used to listen to it every day, and I got to a point where I wasn't. But it's returned with a vengeance and it's amazing."
One of the main reasons for that is Mountaineater, the monumental rock trio that the guitarist/vocalist has been part of for the last three years. But there have also been some major lifestyle changes, which have left Dingemans feeling better than he has in years.
He's more in tune with himself, loving playing music, and looking to the future.
There's a Mountaineater EP on the horizon, a follow up to a seven-inch single the band released in 2009. And this month they're touring New Zealand with fellow Dunedin band Left Or Right.
For these dates Operation Rolling Thunder drummer Rob Falconer will be filling in for regular sticks man Chris Livingston, who has other commitments.
"We had the prospect of not doing the shows and I just couldn't face that," Dingemans reflects. "The reason I play music isn't to make money - it's to share this thing I've discovered and just the sheer joy I get out of playing music. Especially at a gig, the feedback loop is almost exponential. There's almost a ritual aspect to it, in a positive way."
While he's careful to avoid overtones of organised religion, the musician agrees that the communion-like aspect of live music is undeniable. That applies both to the connection with the audience, and among the band.
It's something that has clearly developed over the three years Dingemans, Livingston and bassist/guitarist Anaru Ngata have been playing together. The rhythm section has known each other since childhood, and already shared a strong musical bond that Dingemans was keen to tap when he finally reached the point of starting something new post-HDU.
He'd performed solo as Kahu, and continues to, but hungered for the structure and power of a dynamic three-piece again.
And with Mountaineater, songwriting is approached differently to the way music was constructed with HDU.
"There is definitely a lot of material to draw from," Dingemans says. "As opposed to HDU, where we would write at the recording studio almost exclusively. I think the music in this context will be better for it because it's had more time to evolve. I'm setting the challenge for myself to write better songs, and rather than having the lyrics and vocals as an afterthought, it's a fundamental part of the song and is integral to the structure."
He'd hoped the band would have started new recordings with veteran HDU engineer Dale Cotton by now, but it's been a busy year outside the band for the three. However there is the prospect of that EP before year's end, and the hope of working on an album over summer.
Despite the various setbacks, Dingemans is driven to make it happen.
"The material is definitely there and I can't wait to get it done," he says. "It will get out there. It's fundamental to my mental wellbeing that it happens. If for whatever reasons it didn't then I'd feel incomplete. It's all about that passion, and making more magic."
Mountaineater and Left Or Right on tour:
Saturday September 10 - Saints & Sinners, Invercargill
Friday September 16 - Bodega, Wellington
Saturday September 17 - The Kings Arms, Auckland
Saturday September 24 - ReFuel, Dunedin
-Volume