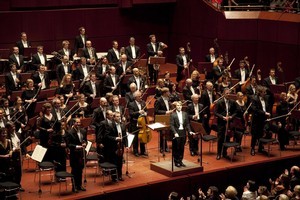 It was a sizzling starter for the New Zealand Symphony Orchestra's Sketches of Spain concert - Rimsky-Korsakov's Capriccio Espagnol, one of the few scores that almost manages to out-Carmen Carmen in its flagrant Spanishry.
Conductor Christoph Konig and the players relished every dazzling hue in the composer's seemingly inexhaustible palette, from yodelling clarinet in the opening Alborada to the sonorous brass fanfare that guides us into the gypsy encampment.
In full flight, with all players on board, the NZSO set up some spectacular walls of sound; yet the solo turns, particularly in the fourth movement, were perfection, right down to a wonderfully flashy harp glissando.
After interval, Debussy's Iberia presented another set of postcards, with more of impressionist wash to them. From the start, one was wooed by delicious woodwind lacings and string passages iridescent in their detail.
The sonic perfumes floated voluptuously in the second movement, while in the midst of it all a restless habanera made its presence felt. It was a heavenly experience in the hall; it must have been the ultimate in surround sound for the man on the podium.
The unbridled sensuality of Debussy's dawnbreak carried into the closing bracket of three dances from Manuel de Falla's ballet The Three-Cornered Hat. We were powerless to resist being lured into the first, reminding one of just how many musical barriers have been broken down through contemporary dance.
And we had dance as well from the personable Konig, brilliantly catching the sweep and sway, a Petrouchka with baton, caught up in the magnificent flow of it all.
In the midst of such extrovert music, Rodrigo's Concierto de Aranjuez was indeed a piece of chamber proportions.
Chinese guitarist Xuefei Yang was unfailing elegant, capable of producing lines that melted appropriately in the celebrated Adagio, which was perhaps lingered over just a little too much.
On either side, however, we need more fire, especially in the flamenco-inspired first movement. Too often Yang's instrument was submerged in the mix, and even the courtly dances of the Finale seemed a little too courteous.