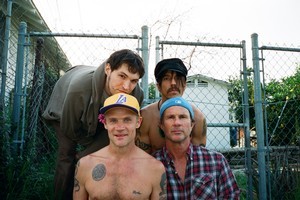 The Chili Peppers without guitarist John Frusciante is like the Stones without Keef. Or U2 minus The Edge. And if you want to get really heavy, Nirvana without Kurt Cobain. Frusciante is irreplaceable. His songwriting and playing - characterised by clever flourishes, adventurous textures and an often-fiery punk poise - is an intrinsic part of the Chili's sound. He played on both the band's classic records, Blood Sugar Sex Magik and Californication, and when he left the first time round there was a marked regression on 1995's One Hot Minute.
He's AWOL for the second time (one might imagine permanently, given his ongoing solo and collaborative work) on the band's tenth album and while it misses the Frusciante factor it's hardly a bad record. In fact his replacement, Josh Klinghoffer (who has played with the band in the past and is also a collaborator and friend of Frusciante), stamps his own mark on the band's sound, like on the psychedelic head-nodding bop of Factory of Faith where he chimes in with everything from lovely lyrical trills to frenzied funk riffs.
It's just that I'm With You often trundles along lackadaisically, with the aimless nonsense of Ethiopia, the whining whimsy-meets-faux funk rock of Look Around, and 80s soft-rock gypsy tune Even You Brutus? being prime examples - and it is also devoid of a catchy rockin' banger like Give It Away or Dani California from last album Stadium Arcadium.
That double album from 2006 had a grand, posturing ambition to it - and it wasn't just because of the vast 28-song tracklisting - whereas I'm With You is a more laid-back, almost lazy offering.
It's hardly time for them to "give it away, give it away, now", because it also has its inspired moments. The stand-out is Brendan's Death Song, not such a cheery title but it intensifies from a gorgeous acoustic ditty to a rousing and rowdy rock tune. And opener Monarchy of Roses starts out with a gritty groove and some brilliantly distorted and mangled outbursts (even if the jaunty ad-jingle chorus is lightweight).
But then there's first single The Adventures of Rain Dance Maggie, which was a ridiculously titled song to start with and the song itself isn't up to much either, with its pedestrian lope and stomp.
So here's a thought. Perhaps if they had done a concept album called Rain Dance Maggie and the first single was entitled I'm With You it may have worked out even better?
Stars: 3/5
Verdict: More like mild to medium-hot
- TimeOut