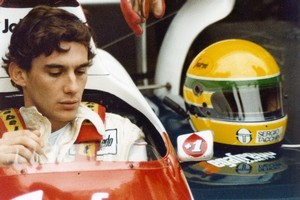 Just as Ayrton Senna rose above being just another fast driver in his decade of Formula 1, this film of his life rises above being just another sports doco.
Yes it has the advantage of inbuilt poignancy - that the Brazilian champion died racing in 1994, 10 years after first announcing his remarkable talents behind the wheel at the Monaco Grand Prix.
But using only footage of his life - largely retrieved from the official F1 archive - with occasional contemporary audio interviews of those who knew him, this doesn't play like a obituary. It would rather show than tell.
That makes for a headrush of a movie, a thriller in which you have to keep reminding yourself that it's also a documentary - and that it isn't a handsome movie star depicting Senna but the guy himself.
And though the F1 footage is unnerving, especially that from the racecams shot from just behind the drivers' shoulders, the real drama and intrigue emerges from the official film shot in the pits and backrooms.
There you get a sense of the strange parallel universe that is, or was, the world of F1. Especially in the days when Senna was in a fierce rivalry with sometime team-mate Alain Prost, who in turn, was supported by overbearing French race boss Jean-Marie Balestre.
Though even with all that access to the F1 archive, director Kapadia chooses to leave out a few blemishes on Senna's driving record and plays down claims by his rivals - Prost mainly - that he was a hothead and even more dangerous because of his strong Catholic faith.
It's also careful to balance his well-to-do beginnings with his good works for the poor of his home country where he was a national hero.
So it may not quite get to the bottom of what made him tick.
But seeing him tick so very fast, so very close - and right down to his final seconds - is what makes Senna so gripping.
Watching his life flash before your eyes makes for one of the most inspiring and saddest sports movies in many a year.
Stars: 4.5/5
Director: Asif Kapadia
Rating: M (offensive language)
Running time: 104 mins
Verdict: Compelling biography of the motorsport champ
- TimeOut