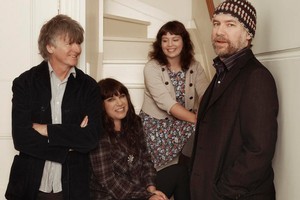 Neil Finn might be teaming up with for a one-off show with brother Tim for next week's Rugby World Cup opening concert but he too has a new album out.
Only it's a side project - The Pajama Club is his band with wife Sharon Finn, Sean "SJD" Donnelly and drummer Alana Skyring.
The band started life as the couple mucking about musically at home, especially after the departure of musician sons Liam and Ellroy left them with a quieter house.
"I'd always had a hankering to play the drums, Sharon's had a similar attraction to the bass," says Neil. "We were having a great old time making noise but we didn't think too much about it until we started playing some of it back and found ourselves dancing."
Having already put out two singles, 'From A Friend To A Friend' and 'Tell Me What You Want', the group release their self-titled album on September 12.
After some shows in Britain, the quartet play New Zealand dates at Wellington's San Francisco Bath House on Thursday September 22, and the Kings Arms Tavern in Auckland on Saturday September 24.
-TimeOut