Tim Finn thought he was done making solo records but he's delivered one of his most personal, most approachable albums in years. As he releases The View is Worth The Climb and prepares to headline the Rugby World Cup opening show, he talks to Russell Baillie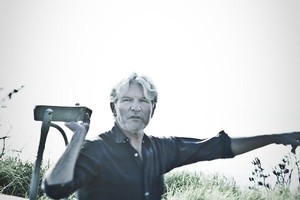 Tim Finn's Devonport house looks like another musician lives there. There's a room full of drums, keyboards and guitars of various vintages on one side of the hall, while a lounge on the other comes appointed with a grand piano near the window.
So, yes, a the residence of a musician. But a mansion grand enough to suggest he doesn't exactly need to keep churning out albums in the hope of further royalty windfalls. Actually, the elder statesman of New Zealand rock says that until last year, he had thought that maybe his solo recording career number was up.
He had made eight albums with Split Enz in as many years. His 2009 solo album, The Conversation, marked his eighth solo album since his first, Escapade, back in 1983, the success of which helped hasten the demise of Split Enz. So "being a little bit whimsically superstitious", maybe it was a good time to stop.
Meanwhile, last year's North, South, East, West best-of, served as quite the career marker and an end to his ties to record label Capitol/EMI.
Its 34 tracks collected Finn's best-known Split Enz songs, Finn brothers' co-writes (some which became the hits of Crowded House's Woodface), as well as a pick of his solo album songs.
"I didn't find it especially cathartic," ponders Finn about the collection as he sits on a low wooden bench in front of a fireplace while a boiling kettle offers a trumpet-like note from the kitchen. "But it was like a little pause and I genuinely thought I wouldn't do a solo album again."
After all, he has other musical paths to follow. And not just reviving his back catalogue on the live stage on summer tours. There have been projects like the play inspired by his music, Poor Boy, which came to town earlier his year in an Auckland Theatre Company production. He's been talking to playwright Ken Duncum about another.
He's also in the early stages of working on the soundtrack to Mister Pip, director Andrew Adamson's adaptation of Lloyd Jones' acclaimed book, which stars Hugh Laurie and has been filming in Papua New Guinea.
Finn, whose song Winter Light featured on the soundtrack to the first Narnia movie, which Adamson directed, went up on a set visit.
"Andrew wanted me up there and it was really worthwhile - it was pretty inspiring and crazy."
But even if Finn was serious about not doing yet another solo album, well, another one came along anyway.
As the title suggests, The View is Worth the Climb has the 59-year-old reflecting on his life, his family and, as the title of opening track says, The Everyday.
And while its lyrics might suggest matters domestic and autobiographical, its sound is more Finn fronting a band - a group including regular guitar sideman Brett Adams, and Wellington wonderboy Mara TK (Electric Wire Hustle). As well, his backers include Americans Joey Waronker (drums), Zac Rae (keyboards) and Australian bassist (Tony Buchen).
Their sessions at brother Neil Finn's Roundhead Studios ("there's a family rate") was helmed by American producer Jacquire King, who Finn had approached after hearing his work on recordings on everything from Tom Waits and Norah Jones to the Kings of Leon.
"To have a melodic guitar player like Brett and a big-atmosphere keyboard player like Zac, it is a very familiar place for me. Like when I was between Neil and Eddie [Rayner in Split Enz]. This is different to that, but familiar to me, that kind of soundscape. So it was great fun singing with that much sound."
So solo but hardly alone.
"Yes, I guess my name is on it but I always think about collaboration when I make music even if it is solo. I guess I am just a natural to be in a band - even if it's not a real band and it's just a temporary band. It has to feel like that for me.
"Where I am now I've got the best of both worlds. I can create bands and then break them up."
And while he was recording at his younger brother's establishment, there was no involvement from any other musicians of the same surname.
"We both tend to be quite secretive while we are making something. I am perhaps even more so. And when we are finished we share. Of course, Neil could have come and played on something but we don't tend to do that as much as some people might expect, unless we are working together.
"We like to save up for those moments rather than doing it all the time."
Though there is some family involvement around the edges.
The song Wild Sweet Children features his own kids, Harper and Elliot on backing vocals - getting them in to add the sing-along "deet-deet-deet" refrain at the end was actually revenge, he laughs. On a family holiday in Europe they had constantly annoyed him with a pop hit with a similar irritating hook from the back seat of the rental car.
"All of a sudden, from being in a pretty big house where there is room for everybody's large personality, we were in hotel rooms and small rental cars and it was just getting a bit much some times.
"I thought I would get my own back by getting them in the studio and getting them to do it. Of course they did it first take, so they had the last laugh."
Still, the song is quite an ode to that most un-rock 'n' roll of subjects, the joys of parenthood.
"Yeah. I guess because it came relatively late for me. Maybe ..."
The novelty hasn't worn off yet?
"No it hasn't. And now sport has started to happen. Any parent knows the ecstasy of standing on the sideline. It's the best ever. Even when they are losing. Watching them try really hard and it's not you making them try hard - it's great."
Though it's not all sweetness and light among the dozen tracks. The lilting tune of Everybody's Wrong ("If you are the only one who's right, everybody's wrong ... ) comes with words that sound barbed, even if it's not quite I See Red, the sequel.
"I don't know about barbed. I've had quite a few relationships in my life that have been quite stormy. Either with friends or with a woman. I am not sure why. I guess at the end of the day, they say you are here to learn.
"Hopefully I have learned some humility through it all rather than hardening and bitterness. And also being able to sing about it and express it through song has been very helpful to me."
LOWDOWN
Who: Tim Finn
Solo albums: Escapade (1983), Big Canoe (1985), Tim Finn (1989), Before & After (1993), Say It Is So (2000), Feeding the Gods (2001), Imaginary Kingdom (2006), The Conversation (2009), North, South, East, West Anthology (2009)
Playing: The View is Worth the Climb album launch at 1885 Britomart, Auckland tonight
Also: The Finn brothers headline the Rugby World Cup opening concert, Queens Wharf concert on Friday, September 9
-TimeOut