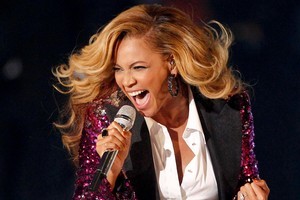 Beyonce Knowles stole the spotlight at Sunday's MTV Video Music Awards, revealing that she and rapper husband Jay-Z are expecting their first child together.
The hitmaker set tongues wagging even before the shindig began, arriving on the red carpet in a flowing orange gown. She then announced to the awaiting shutterbugs that she had a "surprise," while cradling her new accessory - a burgeoning baby bump!
MTV first reported the news in a tweet: "OMG Beyonce just made a huge announcement on the #vma carpet! #baby!!!!!" accompanied by a snap of the singer positively beaming as she rubbed her belly.
The star's rep later confirmed the pregnancy to US Weekly.
Later in the show, before performing her new single Love on Top, Beyonce boomed to the crowd at the Nokia Theatre in LA, "I want you to stand up on your feet. I want you to feel the love that's growing inside me."
Then, at the end of her roaring performance, she tossed her mic, popped open her sequined D&G jacket and rubbed her belly, proudly unveiling her baby-on-board.
The crowd went ballistic, while TV cameras panned to the audience where beaming Papa Jay-Z was spotted with best mate Kanye West, who offered a congratulatory whack on the back.
Check it out below:
'She'll be an incredible mother...'
Beyonce's former Destiny's Child bandmate Kelly Rowland was one of the first to publicly congratulate the singer.
"I have known for quite a while, and she's happy, and Jay is happy, and that's all that counts," Rowland told Us Weekly at the House of Hype's post-VMAs party at the SLS hotel.
"I think she'll be an incredible mother, because she's always been motherly," she said. "I think that takes after so many traits from her mother [Tina Knowles]. I just think it's going to be so natural for her. It's natural for her now!
"I can't believe this to this day."
Meanwhile, a slew of celebs have rushed to congratulate Beyonce on her pregnancy.
New-mum Pink wrote: "What an adorable way to announce a baby :) congratulations beyonce and jay z! Get your sleep now."
Reality starlet and newlywed Kim Kardashian: "I'm sooo happy for Beyonce & Jay Z!!!! Be's preggo!!! Congrats!"
Katy Perry: "Beyonce me & rustyrockets (Brand) are avail to baby sit anytime! We'z (sic) real responsible... ish."
Usher: "Woke up to the news that BEYONCE IS PREGNANT! So happy for her!!! Congrats B and Jay-Z!!!"
Solange Knowles: "))))))))))))))))))))))))))))))))))))))))))))))))))))))))))))))))))))))))))).... !!!!!!!!!!!!!!!!!!!!!!!!!!!!!!!!!!!!!!!!!!!!!!!!!!!!!!"
Yep, she's happy.
She later added: "One.And.Only. I could not possibly be more proud. Tears in my eyes. No one deserves it more. That doesn't happen by accident. That doesn't happen by chance. That doesn't happen by gimmicks."
Busta Rhymes: "@Beyonce definitely smashed the Vma's!!! Congrats 2 u and @S_C_ on ur new baby...God Bless..."
This will be the first child for Beyonce, 29, and her husband, 41-year-old Jay-Z (real name: Shawn Carter). The couple married in April 2008 in New York.
Speaking to CNN host Piers Morgan in June, Beyonce, who turns 30 on September 4, hinted that the proverbial stork was circling.
She told Morgan: "I always said I was going to have a baby at 30. I'm 29 now.
"But I also said I was going to retire at 30. So I don't know. I am not retiring, I tell you.
"Only God knows, only God knows."
Beyonce also revealed in the September issue of InStyle magazine.
"Now I'm a woman and because I gave it my all, I can focus on my marriage," she said. "I can decide I want to have kids. I can be the mother I want to be and dedicate myself to my children. I want to make my job a part of my lifestyle so that I always enjoy what I'm doing."
Word is the couple had planned to keep the pregnancy secret, but Beyonce, who is believed to be three months gone, decided that all would be revealed at the VMAs.
"She's close to three months along," a snitch tells Us Weekly. "She wasn't going to announce it but she is so excited she couldn't hold it in."
Naturally, first-time dad Jay-Z is over the moon that his wife is pregnant. "Jay is ecstatic and over the moon," the snitch added. "He really wanted this so badly."
Sources say that Beyonce is due in February, and is hoping for a baby boy.
"Beyonce is about three months along and is due in February," a source tells Radar Online. "She and Jay are absolutely over-joyed...her whole family is really excited."
The source says that the couple has their fingers crossed for a boy, adding that the whole family is "excited" for Beyonce's nephew Daniel Julez Smith Jr. (son of her sister Solange) "to have a playmate."
"Of course having a little boy for Julez to play with would be ideal, so they have their fingers crossed," the source said.
"But both Beyonce and Jay are just so happy to be having a baby, they don't care what it is!"
There's also buzz that Beyonce's bambino news will have an impact on shooting of her next big screen project, A Star Is Born.
Deadline reports that Clint Eastwood's musical remake was due to start shooting in February 2012 - right around the time that Bea is due to pop.
Insiders tell the website that Eastwood and Warner Bros. "could push" the start date on the film, until Beyonce's bambino has arrived.
But the delay means that Eastwood and the studio now have time to look for a leading man for the flick. Leonardo DiCaprio has reportedly turned down the project.
Huge congrats to Beyonce and Jay-Z!
Blogger Bites Back
P.S. I called, and you answered. In droves. I tip my trilby in your direction and holler a heartfelt thank you for making Blogger Bites Back best blog in this year's NetGuide Web Awards.
Mother was right; gossip really does make the world go round.
Humbled, stoked, and genuinely appreciative of your ongoing readership and support.
Here's to many more years of purveying the good stuff!