Granta 115: The F Word ed by John Freeman with contributing editors ($30)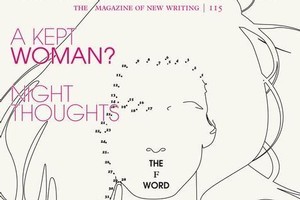 Writers and readers the world over fell instantly in love with Granta when it first appeared in 1979 and the affair deepened over the next two decades. More recently, in this part of the world at least, the word "blokie" has been used to describe the literary journal and many women have ceased to support it. This was not necessarily a political decision but one made more out of irritation, boredom and a sense of being excluded.
It is doubtful this falling out of love was motivation for Granta 115: The F Word, a feminist edition, but still it is heartening to see gathered together 21 stories, essays and poems from predominantly British and American women writers. The collection opens strongly with an essay by English writer Rachel Cusk, Aftermath. A eulogy for her broken marriage, the clear-eyed writer stares her failure full in the face.
"My husband believed that I had treated him monstrously ... It was his story and lately I have come to hate stories."
Cusk attempts to define feminism: "(a feminist) stays away from ... the kitchen, the maternity ward - like the alcoholic stays away from the bottle." It is a statement made for effect, because historically feminists have very much remained in those places.
They were our battlegrounds. If we had abandoned them we would have made none of the overdue changes of the past hundred years.
However, it is brave of Cusk to make the attempt. The editors perhaps did not - the edition could be defined as female-centric, rather than feminist. Lydia Davis' The Dreadful Mucamas, a tongue-in-cheek account of immigrant domestic servants and Julie Otsuka's piece about the children of Japanese agricultural labourers in the United States are the only two that express a concern with class in a feminist, revolutionary sense.
Caroline Moorehead's A Train In Winter, an excerpt from a book of the same title, is a harrowing account of the incarceration of 230 women French Resistance fighters in Auschwitz. This is feminism as sisterhood; how the women supported one another through the Holocaust - typhus, starvation, beatings, gangrene and unimaginable horrors - until the surviving 52 could walk away at the end of the war.
Older writers A.S. Byatt, Francine Prose and Laura Bell provide short, lively autobiographical pieces. Helen Simpson and Janice Galloway present us with tired, anachronistic exercises on role-reversal and menstruation respectively. Maja Hrgovic's moving Croatian story shows the redeeming chink of light love will cast on women in a war zone, and Taiye Selasi makes her publishing début with The Sex Lives Of African Girls a murky, uneven portrait of an abusive uncle. Urvashi Butalia's portrait of transvestite Mona, a hijra who attempts to adopt a child as a true expression of her femininity, is a fascinating insight into a closed community.
Jeanette Winterson's standout All I Know About Gertrude Stein closes the collection, interweaving anecdotal and possibly embroidered stories about Gertrude and her long-time love Alice B. Toklas with a contemporary lesbian love story. It is classic Winterson, bristling with controversial ideas. Mostly she muses on love and how it was once women's "whole domain", a centuries-old sentiment of Byron's that feminists have always scorned.
Winterson does not acknowledge Byron, but writes love was "the business of our lives, to give love to make love to mend love to tend love ... Now we have our own money and can vote ... I don't think we talk about love in real terms anymore."
This is a sad notion, that because we have our independence we have become incapable of loving, and one most women would dispute. Luckily she saves herself at the end with a rallying cry that stays with the reader long after the book is closed, "Love is not sentimental. Love is not second best. Women will have to take up arms for love. Take me in your arms. This is the Here that we have."
Stephanie Johnson is an Auckland writer.