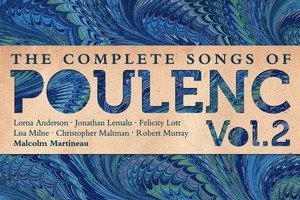 It was a philosophy that created music of unimpeachable lightness and rightness. For Ned Rorem, Poulenc's music was delicious, a word the American felt had become suspect to a brainwashed public, alerted to disrespect what it might understand or like.
Above all, Poulenc sought to please and entertain, veering from chapel to cafe, often within a few phrases, and nowhere more so than in his many songs.
Pianist Malcolm Martineau is behind a new Poulenc project, capturing the songs on five CDs, with six singers, including our own Jonathan Lemalu.
The second instalment sets off with Christopher Maltman enjoying Chanson hispano-italienne, a Cocteau setting that sketches a macho toreador in cafe waltz time.
Later, in the song-cycle Le travail du peintre, there may be a slight straining in Maltman's portrait of Picasso, but Miro is elegantly captured, Klee dispensed in a manic fury.
Felicity Lott's well-deserved status in this repertoire comes through in the song-cycle Tel jour telle nuit.
The opening song might not have quite the bloom we heard 20 years ago when she sang it with Graham Johnson, but her musicianly response to the Paul Eluard poems has few rivals.
Lorna Anderson shows a real feeling for the cabaret side of Poulenc, delighting in the tale of a robustly healthy lad determined to make himself ill.
She also conveys a suitably moody presence in three Garcia Lorca settings, the middle of which features soprano and pianist swerving from style to style in the best Poulenc manner. Tenor Robert Murray illuminates the simple reverence of a prayer for peace by Charles d'Orleans.
Lisa Milne, who was given substantial song-cycles in the first volume, is similarly moving in her solitary Hymne, to the words of Racine.
Jonathan Lemalu also has only one song, going to town and back with a tongue-in-cheek portrait of another of Poulenc's naughty boys. One hopes, after a single appearance on Volume 1, that we hear more of him on the discs yet to come.
The Complete Songs of Poulenc Vol 2
(Signum, though Ode Records)
Stars: 4/5
Verdict: "The second enticing course in a delicious feast of French song."Miro is elegantly captured, Klee dispensed in a manic fury.Francis Poulenc had a formidable war-cry: "Let us have a truce to composing by theory, doctrine, and rule!"