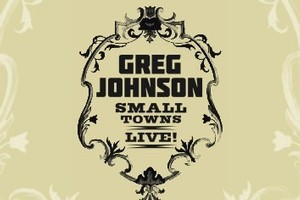 Album cover for Greg Johnson's live album Small Towns. Photo / Supplied
This first live album by the Los Angeles-based Kiwi songwriter has that all-important crackle, freshness, and smouldering purity that transports you back to the venue where the songs were first performed.
The souvenir-style collection contains 14-tracks recorded live on his Small Towns and Ball Gowns Tour in May and June this year. It's on songs like Tennessee Train, with brass, harmonica, and Johnson's Kiwi-meets-deep southern twang, and the simple story telling of Maori King, where he and his band are at their best - and yes, there are a few classic hits as well, like Isabelle, and, of course, Ball Gowns and Small Towns. Small Towns is essential for those who were at the shows, but also a fine document of one of this country's most powerful performers and singer of songs.
Stars: 4/5
- TimeOut