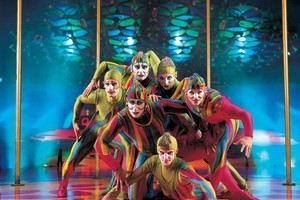 At the heart of the circus is a hymn to human potential. While most of us are likely to feel we are pushing our limits by negotiating the steps to the upper levels of the Vector Arena, it is inspiring to see how the disciplined cultivation of strength, agility and concentration enables acrobats to radically extend the boundaries of human mobility and laugh in the face of danger.
Nowhere is this more apparent than in Saltimbanco's duo trapeze act that delivers the exhilarating thrill of death defying bravado.
At one point the seemingly impossible interlocking of feet was the only thing preventing one of the performers from plummeting to ground.
The only problem with Cirque du Soleil is that you are served such a surfeit of the incredible that is hard to maintain any sense of distinction. I suspect the most spectacular acts are not necessarily the most difficult.
Riding a bicycle upside-down and backwards while doing handstands on the handlebars is almost certainly more difficult than it looks.
And a duo using each other as mobile platforms for precariously balanced handstands seemed to require phenomenal strength.
Similarly a gentle adagio on the intimacy of family bonds had three performers demonstrating the elasticity of a yoga master and enormous power in lifting and skill in balancing.
The Chinese poles routine takes us into a parallel universe where the laws of gravity seem to have been suspended.
The finale features an ethereal bungee cord ballet with precise timing bringing dancers together like a formation of sky-divers.
The mischievous clowns conjured up belly laughs and the audience participation gags offer multiple opportunities for anyone who has dreamt of joining the circus and is brave enough to step into the limelight.
Those who have experienced Cirque du Soleil in the big top may miss the romantic mystique of the circus tent and some critics say the stadium spectaculars lack the human dimension of earlier shows.
This strikes me as a rather snobbish form of connoisseurship as there can be little doubt that the stadium setting delivers more bang for your buck.
Review:
What: Cirque du Soleil
Where: Vector Arena
When: Last night and until September 4.