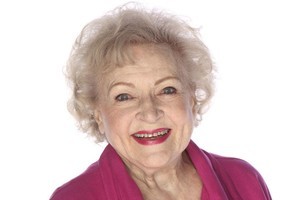 KEY POINTS
At nearly 90, Betty White is not slowing down with a starring role in a new sitcom, writes Scott Kara
It wasn't the greatest first impression to make on a screen legend. Following the polite pleasantries - Hi Betty. How are you? It's good to talk to you and the show is great - TimeOut asks who would have thought that at 89, Betty White would be playing a pot-smoking caretaker?
It seemed like a fair enough question because White's character, Elka Ostrovsky, in new sitcom Hot In Cleveland, is a poison-tongued, joint-smoking senior citizen. Or so I thought.
"Ah, but not pot smoking," she says in her lovely, calm lilt. "I stopped that immediately. It's just that in one show they put that little bit of suspicion around it. But I don't find anything funny about dope because I've seen it do too much damage to too many people."
So White - the most famous and only surviving member of the quartet who starred in 80s show The Golden Girls - called up Hot In Cleveland creator, Suzanne Martin (Ellen, Frasier), and said "can we please not go that way". That's the sort of pull and respect 63 years in show business gets you.
White really is a lovely woman and TimeOut's telling off about the dope jibe is a kind and gentle one. And despite her age she is sharp - "I'm addicted to crosswords. I adore them. I carry them in my purse. It's good mental exercise." - and last year became the oldest ever guest host of American institution Saturday Night Live.
But why, since she's turning 90 in January, doesn't she put her feet up and relax?
"Put my feet up? I've got a due date for my new book [her sixth]," she laughs. "I just enjoy working and I thoroughly enjoy working with those girls," she says of Cleveland co-stars Valerie Bertinelli (One Day At A Time), Jane Leeves (Frasier) and Wendie Malick (Just Shoot Me!, Frasier) who play three best friends from Los Angeles whose lives change dramatically when their plane headed for Paris is forced to land in Cleveland.
"We all fell in love with each other doing the pilot episode. So I just enjoy doing it and will continue to do it."
In Hot In Cleveland, which starts on TV2 on September 14 at 8pm, Bertinelli plays novelist Melanie Moretti, Leeves is eyebrow plucker to the Hollywood stars Joy Scroggs, and Malick is a hoot as former soap star Victoria Chase.
When they realise Cleveland is a city that "values real women" they decide to stay put and rent a house, with Elka the caretaker as part of the package.
White says with a laugh that Elka is a "a rotten lady, and not anybody you'd want to know".
"They inherit her when they rent the house," she laughs, "And she's not something you'd ever want to inherit but she does become one of the girls.
"She's a pain in the neck, and she lives next door but she spends more time at their house than she does in her own and they can't get rid of her. She's opinionated, but every once in a while there is an affection that the girls in spite of themselves show to her. She annoys them nonetheless. She's fun to play."
Hot In Cleveland is old school television in many respects, from the live studio audience and constant flow of one-liners, to the inviting comic mood of shows like Cheers, One Day At A Time, and, of course, The Golden Girls.
The last time White worked with a live studio audience on a TV series was back in her Golden Girls days in the 80s and early 90s.
"The wonderful thing with a live studio audience is it makes such a difference doing comedy because they help your timing so much. It energises everyone."
Though the comparison to Golden Girls is understandable since there are four women involved, White believes they are very different shows.
"The thing about Golden Girls was that we could address just about any subject in the world, and even get a little salacious, because at our age everybody knew that we'd been around for a long time. But here, the girls are younger and it's just me as the old broad, so it changes the focus a lot and so I don't think there are really any similarities with Golden Girls at all. We're just an old-fashioned situation comedy," she says.
White was initially only cast to do the pilot for the show, and made sure there was a clear stipulation in her contract that if the show happened to get picked up as a series she would not be available.
"Because my schedule is a busy one," she says. "But they picked this one up almost immediately, and the producers called me and asked if I would do some more and I have the backbone of a jellyfish so wound up doing all 10 [episodes]."
And now the show is into its third season, after starting in the US mid last year.
"I'm having such a good time, and the girls are wonderful, so why quit something when you're enjoying it?"
LOWDOWN
Who: Betty White, actress
What: Hot In Cleveland, starts September 14, 8pm, TV2
- TimeOut