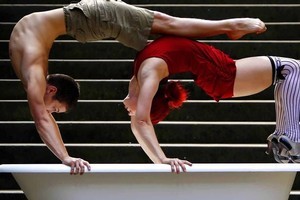 The image of the bathroom as a sanctuary for relaxed contemplation is comprehensively shattered by the explosive vitality of a show that calls to mind the eureka moment when Archimedes leapt out of his bathtub and ran naked through the streets.
Soap - The Show uses a collection of bathtubs as a platform for a parade of supremely talented circus performers - veterans of Cirque du Soleil and other world class circus troupes.
The intimate bathroom setting puts less emphasis on the elaborate spectacle of a fully fledged circus and allows the audience to focus on the expressive qualities of individual performances.
A remarkable hand-balancing routine set to a sinuous heavy metal soundtrack has an edgy intensity that draws on Alessandro di Sazio's background as the undisputed breakdance champion of Germany.
By contrast, Michael Lanphear brings a romantic mood to his swirling airborne interpretation of Screamin' Jay Hawkins I Put a Spell on You that is neatly augmented by the bathroom's resident opera singer.
One of the show's many highlights comes with Faon Shane's turn on the silk ropes. Her masterly display of strength, subtlety and control has a deeply expressive quality in which measured ascents and moments of exquisite balance are counterpoised with perilous spins and twists as she plunges earthwards.
In a number of the ensemble pieces the acrobatics shaded into contemporary dance - most notably with a sharply choreographed love triangle that had three performers falling all over each other as they dived and tumbled in and out of the tubs.
The finale is a wonderfully lyrical trapeze routine by Francois Gravel in which his extreme athleticism looks effortless due to his graceful fluidity of movement.
Traditional juggling is well served by the languid dexterity of Adem Endris' bouncing ball dance, while Ludmila Nikolaeva brought a light-hearted touch to her spectacular foot juggling that had towels and oversized bathroom objects spinning on the tips of her toes.
In between items there was plenty of light relief provided by Marie-Andree Lemaire's goofy clowning and Patricia Holtzmann's burlesque style opera singing.
THEATRE
What: Soap - The Show.
Where: The Civic.
When: Until Sunday.