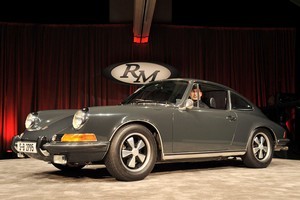 The 1970 Porsche 911S once owned by actor Steve McQueen has sold for US$1.25 million ($1.53 million) at auction in Monterey, California.
Bidding began at US$200,000 and quickly moved beyond US$1m before the car was knocked down to an American woman.
The 911, seen in the opening scenes of the movie LeMans, was McQueen's personal car throughout the filming in the early 70s and had racked up 181,000km over the past 41 years.
The seller was comedian Jerry Seinfeld, who bought the 911S some years ago.
RM Auctions said the Porsche was the 200th car it has sold for more than US$1m in the history of the Monterey festival.