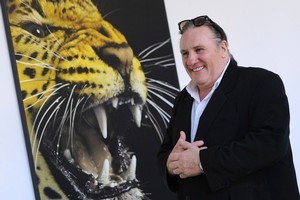 Gerard Depardieu delayed a flight on Tuesday evening after a oui whoopsie. Photo / AP
A oui issue: When Gerard Depardieu has to go, he has to go.
The French actor has been accused of urinating on the floor of a packed plane after cabin crew told him the toilets were off limits.
According to People, the 62-year-old actor was caught short on a delayed Air France flight as it prepared to take off from Paris to Dublin on Tuesday evening.
A passenger named "Daniele" told French radio station Europe 1 that Depardieu repeatedly asked cabin crew if he could use the toilet while the plane was taxiing toward the runway for takeoff.
"Je veux pisser, je veux pisser," ("I have to pee") Depardieu implored to the crew, according to the eyewitness.
But cabin crew told the Green Card star that he had to wait until after takeoff.
When a 20-minute delay was announced, Depardieu reportedly took matters into his own hands - he allegedly stood up, unzipped his pants and answered the call of nature.
"Mr Depardieu, who was clearly drunk, called out to cabin crew repeatedly that he 'needed to piss' as the plane was heading to the runway," disgusted passenger, Danielle, told the French radio station.
"An air hostess told him he'd had to wait 15 minutes until we were in the air and he could leave his seat.
"She told him there was nothing she could do until then and that he would have to hold it in.
"But he replied that he couldn't wait, then he just stood up and urinated on the floor."
The flight - operated by Ireland's CityJet - was then forced to return to the gate and the flight delayed for nearly two hours while crew cleaned up the spillage.
A spokesperson for Air France confirmed the incident took place, saying, "I will only confirm that he, in effect, urinated in the plane."
In effect? Pray tell...
One of Depardieu's pals has disputed the eyewitness account; claiming that the actor was "not drunk", and "had been trying to urinate discreetly into a bottle" and was "mortified" that his aim was askew.
"When some urine spilled on to the floor, Depardieu was mortified and offered to clean it up himself, but the crew decided to turn round and taxi back to the terminal," AFP reports.
Said another pal: "No charges were brought and no fine was imposed, and he had the impression that his position about the misunderstanding and the inflexible attitude of the stewardess had been understood by those he spoke to."
A rep for CityJet, Air France's subsidiary carrier which operated the flight, confirmed the incident, saying a passenger was escorted off the plane along with his two travelling companions.
A statement from CityJet said: "Flight AF5010, which was due to depart at 1845 from Paris to Dublin, was delayed due to an incident on board involving a passenger who refused to remain in his seat as the aircraft was taxiing on the runway.
"The captain returned the aircraft to the stand where the passenger was offloaded. The passenger's luggage was offloaded and the aircraft departed from Charles de Gaulle airport at 2035 with four crew and 91 passengers on board."
The carrier later joked about the incident on Twitter
"As you may have seen on the news, we are busy mopping the floor of one of our planes this morning..." wrote a rep.
"We'd also like to remind all passengers that our planes are fully equipped with toilet facilities."
Depardieu is currently in Ireland filming Asterix and Obelix: God Save Britannia. His rep has not commented on the report.
Oh, mon dieu. But when you gotta go potty, you gotta go potty!
Blogger Bites Back