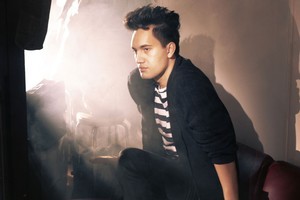 There's a Club Tropicana moment on Seth Haapu's debut album. The bright and snappy pop sounds of Talk Talk Talk transport you back poolside to when tog-wearing duo Wham! cavorted their wares and, indeed, with Haapu's trademark bouncy quiff he cuts a fine Maori George Michael figure.
Of course, the 24-year-old wasn't even born back in 1983 when Wham's hit came out. But those too young to remember the 80s seem to have a far greater affection for the often-misunderstood decade.
And there's more to the sound of the Wanganui-born singer, songwriter, and multi-instrumentalist's self-titled album than just Wham.
There's also the keyboard-tinkering pop lunacy of British singer Mika and Che Fu's strong soulfulness as well as the fidgety tenderness of Scritti Politti - he even has a 60s garage-meets-psychedelic twang to his guitar.
While it is lyrically sweet, and still a little naive - "What a bore, what a bore, what a bore, this life would be if I were like you and you like me," he ponders on Stereotype - musically Haapu has solid and, at times, eccentric chops.
The theatricality of Bones has a lovely, rickety old harpsichord; Keeping Count escalates from gentle ballad to pure pop grandeur with piano tickles and splashes and sprays of strings.
Then there's his downright cute infatuation with hand-claps which are used to toe-tapping, rump-rattling effect on Stereotype and Talk Talk Talk.
The lad is talented, which really makes you wonder how he didn't make it further than the top 30 in Australian Idol's third season in 2005. Still, it's probably a blessing in disguise, because with the strict musical requirements Idol pushes, it's unlikely he would have come up with the sort of adventurous and lively pop he's conjured up here.
Stars: 3.5/5
Verdict: Equal parts melancholy and madcap pop debut from Kiwi singer-songwriter
- TimeOut