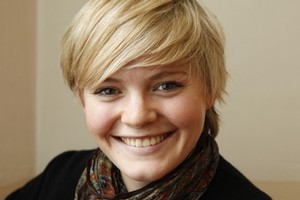 So I'm probably eating my first KFC meal as you read this.
As an ex-vegetarian and a reader of hysterical there-was-a-hair-in-my-fast-food stories, I've never felt the need to venture into Colonel Sanders' empire before, but have decided that the day after a final knees-up with my Auckland buddies is the day to break the ice.
Which means that right about now, I'm making like a uni student and driving to KFC to eat my first Double Down after a week-night out on the town.
Oh how I've changed. In more ways than one.
I'm sure I never would have admitted to liking Taylor Swift, or Good Charlotte or Bruno Mars before taking my job at TimeOut and spending many hours with my ears in their albums.
But now I'm totally bummed I'm going to be missing out singing along to Swift's Back to December album at her show in Vector Arena in April.
Or who knows, maybe I'll be back. My life henceforth is an open slate.
Yes, I'm writing this as a bit of a sign-off. I'm leaving Auckland and its cold, wet, short days to head to the equator.
Singapore slings and plates of dumplings and too-hot-to-move weather conditions are too enticing to pass up - though I do note that my skin tone does not like the sun and that I am slightly allergic to chilli.
And I also note that I'm abandoning Auckland just as it starts to get its act together.
Obviously, as I am taking off before it begins, I am not fazed to be missing the Rugby World Cup, but the upcoming event has undoubtedly changed this city for the better.
Fun new restaurants and bars around Britomart, Wynyard Quarter and Federal St. Snappy swipe cards for the bus. And, finally, a new covered walkway on K Rd.
But even looking beyond the next month or so of beer-drinking songs and all that rough and tumble on the TV, there's a whole summer of parties for this place to look forward to. Coromandel Gold has swelled to two days, Rhythm and Vines is including those who can't get out of the big smoke in its celebrations with a curtain-raiser at Vector Arena at the end of September, and it's another Splore year.
The fear of missing out is mounting. Thank goodness the city I am going to has a Laneway Festival, though it's possibly a less rowdy affair than the Auckland event, given that any expletives in band names are swiftly edited (so last year's Canadian band Holy F*#! became just "Holy").
On top of that, due to video on demand being unavailable outside New Zealand, I'm going to have to curb my addiction to local TV shows - the continuation of fabulous TV One show Nothing Trivial and TV3's Underbelly: Land of the Long Green Cloud, and, of course, New Zealand's Next Top Model. To make my Fomo worse there will be spoilers all over the social networking sites.
I suppose there's never going to be a good time to leave, just as there has never been a good time to start eating KFC, but I won't know what I've been missing out on until I try.
So, that's it from me, thanks for everything, I've had a blast. Zai jian (Goodbye ... I think),
Jacqueline.
- TimeOut